"If Andy Sidaris directed a Western."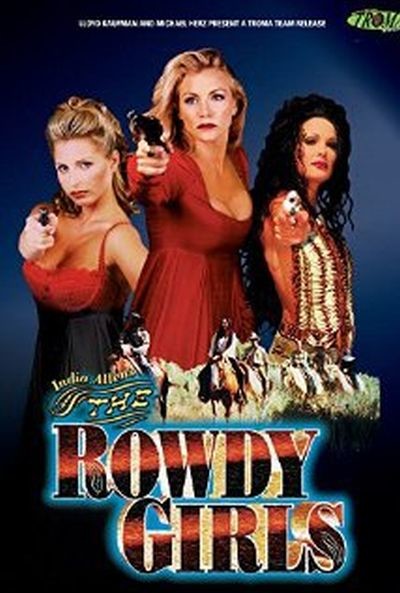 The self-awareness of the film's own silliness is clear, virtually from the start in which a singing cowboy – referred to in the credits as a minstrel – strolls through the countryside, crooning his ballad of the titular ladies. He pops up intermittently throughout to narrate, and it does a good job of setting the tone: clearly, this is not intended, in any way, to be a serious look at historical life in America. It is, very much, gyno-centric: beyond the leads, this was also written by two women, including India Allen, who was the 1988 Playmate of the Year. Not just a pretty face, then.
The three characters at the center have different stories, that all end up taking them to the same place. Velvet McKenzie (Tweed) has bailed out of her life in a bordello, with a travel-bag full of cash, and is travelling disguised as a nun. Sarah Foster (Brooks) is similarly making a break, fleeing an arranged marriage and heading for San Francisco, on the same wagon as Velvet. But in their way is Mick (Strain), member of an outlaw gang and the leader's lover; the group rob the stagecoach, taking both Velvet and Sarah hostage. The attack is interrupted by the local sheriff, until Mick slides a knife between his ribs; that just sets his younger brother, Joe Pepper (Varga) on the trail of both the criminals and their captives.
No shortage of curvy nudity here, as you'd expect given the cast, though it certainly qualifies as being at the tasteful end of the spectrum. There is probably more of a plot than you would expect too, with loyalties and alliances shifting over the course of the 87 minutes, and despite its B-movie origins, the production values are better than certain Troma movies I could mention [though I'm not entirely sure about the credibility of some of the costumes, which appear more Victoria's Secret than 19th-century Western America!] Strain is particularly fun to watch, not least because her 6'1″ frame towers over some of the male cast, and her attitude is equally imposing, but Tweed, well into her forties at the time, is by no means outclassed.
Sure, the makers of this have set their sights low, not appearing too interested in offering up much more than a soft-core exercise in historical inaccuracy. Adopting a tongue-in-cheek approach to the whole thing was thus likely a wise movie, effectively defusing most of the (numerous) critical arguments which could be made against it. Manage your expectations, therefore, and those expectations will be met. For as soft-core exercises in historical inaccuracy go, you could certainly do an awful lot worse. Below, courtesy of Troma, you'll find the whole thing, so you can judge for yourself!
Dir: Steven Nevius
Star: Shannon Tweed, Julie Strain, Deanna Brooks, Richie Varga