"The film that could only be made in South America – where life is…very, very grim."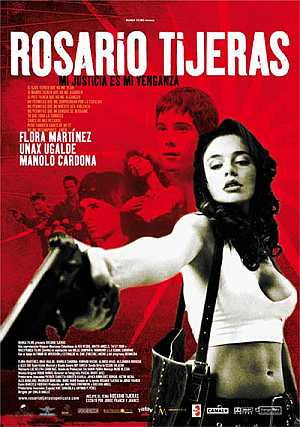 Antonio (Ugalde) and Emilio (Cardona) meet the gorgeous Rosario (Martinez) at a nightclub in Medellin, Columbia, and both form a relationship with her – Emilio, a physical one; Antonio, a platonic but perhaps more deeply felt attachment. While information on Rosario is limited, not least from herself, they soon discover that she has a dark past (Tijeras isn't her surname, it's Spanish for "scissors". Let's leave it at that, shall we?) and a dark present (among the many rumour swirling around is that she has killed 200 or more, in her role as a hitwoman for the local drug cartels). Nor is the forecast for her future sunshine and rainbows, since the first scene has Antonio carrying a badly shot-up Rosario into a local hospital, with the rest of the film told in a series of flashbacks.
Medellin used to be a credible contender as murder capital of the world. During 1991, this city of about two million people saw over seven thousand homicides – there were less than seven hundred in all of England and Wales the same year. That may go some way to explaining the casual approach towards live, love and death shown by most of the characters here; why think about tomorrow when it might not arrive? Rosario's job is more hinted at than actually depicted: while we do see her kill a couple of people, it's far more for personal reasons, and despite the cover, this is less an action film than heavily-armed drama.
It's a good performance from Martinez, however, and the hidden aspects of her character pull you in, to see what's going to be revealed. Make no mistake though; this is downbeat material, through and through, with an unexpected cameo by Alex Cox [director of Repo Man] one of the few lighter moments. Otherwise, if you can think of something bad that might happen, odds are it will. Rosario's psychology is also a little too conveniently pat – it was absolutely no surprise to discover she was abused as a child, even if the gap between that and mob killer seems to require more explanation. On the whole, this is solid and worthy, though it'd be something of a stretch to describe it as entertaining.
Dir: Emilio Maillé
Star: Flora Martínez, Manolo Cardona, Unax Ugalde