"Share today, gone tomorrow."
If this concept sounds familiar, it should. Because this bears a strong resemblance to 2003 Japanese film 2LDK. Most obviously, both films are virtually single-location set pieces, in which the relationship between two room-mates devolve over the course of the feature, into a full-on brawl. Perhaps even more damningly, the original working title for this was 2BR/1BA – exactly like 2LDK, real-estate shorthand. [I wonder where the new title came from, since there's no "wanted" at any point here] Yet there's not even a "based on" credit to be seen, and no apparent acknowledgement of any inspiration. Hmm.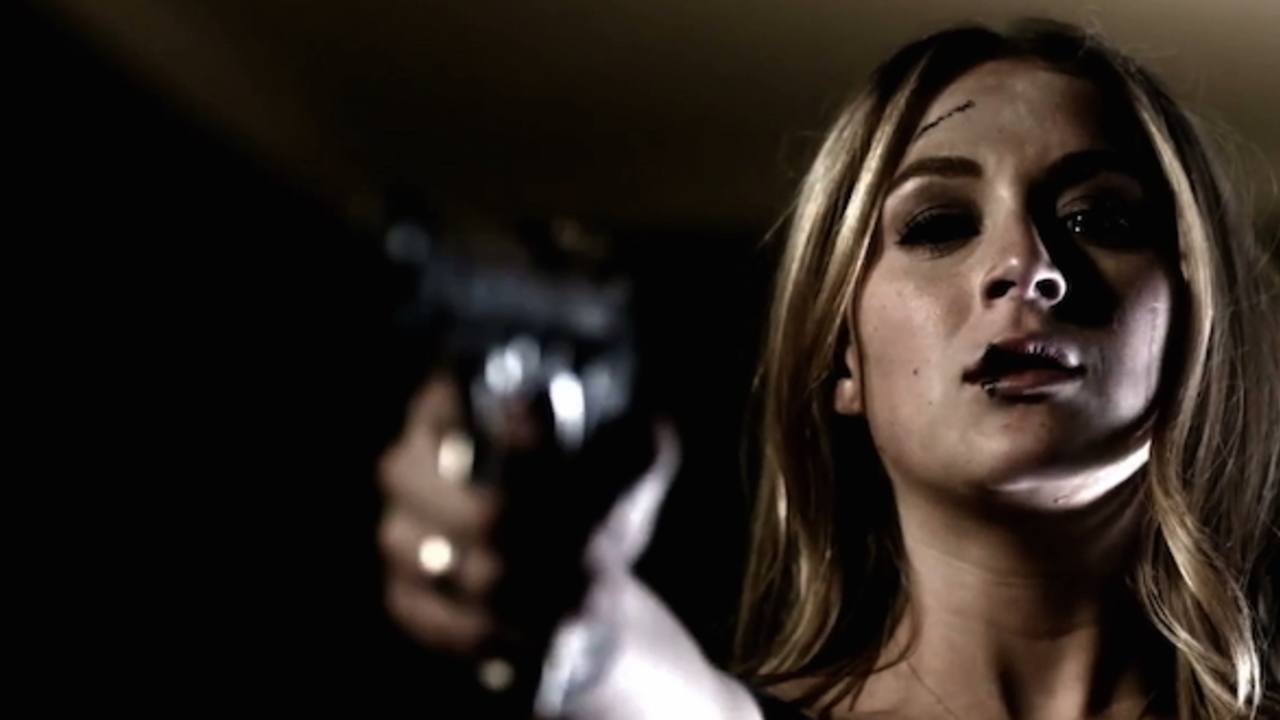 On the other hand, if the plot has more than some similarities, the tone and approach are different here. There's much more in the way of social commentary here, with the disparate personas of the two young women. [Indeed, so disparate, you have to question how the heck they ever ended up sharing a house] Jamie (Vega) is serious-minded, the kind of person who labels her food in the fridge, and seeking to pursue an academic career, but desperately needs funds to cover tuition at her chosen college. Dee (Grammer) is a party girl, whose days are filled with going to the gym and tanning, while her nights are filled with tequila and casual sex.
The culture clash between them is obvious, and provides most of the dramatic tension, as well as the more comedic aspects. For instance, Dee offers to make Jamie a smoothie, and on being reminded the latter is vegan, replies that she'll use low-fat milk. Grammer nails the vapid, wannabe model-type perfectly, yet there's an undercurrent of bitterness (particularly, as things turn out, toward Jamie and her perceived superiority) and you get the sense she's smarter than she appears. Jamie has her own set of insecurities to deal with; as well as her tuition situation, she just broke up with her boyfriend after finding a thong in his car's glove-box. Might Dee be able to shed some light on that?
Where this isn't as good as 2LDK is in the mayhem. The Japanese version was, literally, no-holds barred, up to and including the use of a chainsaw. Here, there's rather too much of the protagonists standing at a distance and lobbing things at one another. While the cynical social commentary and bite can make up some of the difference, this needs to amp up the brutality significantly, and include more surprises. When a point is made of a giant fish-tank in the living room, you know it's only a matter of time before it's going to come crashing down in a mini-tsunami of water, broken glass and flailing fishies.
Then there's the ending. It could be the greatest ever. Or the worst ever. I'd listen to arguments, and could be convinced in either direction. It certainly is… a shocking ending. I should say no more than that. We will remember it, that's for sure. But we'll be more likely to watch 2LDK again, and an interest in doing so, is likely the main takeaway from this unofficial reboot.
Dir: Rob Margolies
Star: Alexa Vega, Spencer Grammer, Kathryn Morris, Bryan Dechart