"The revolution will not be televised."
My heart sank when I saw the production company's logo in the opening credits, as I realized this was from the same people who brought us Earthkiller, which… Well, wasn't very good, to put it mildly. Four years and several features later, has Bellware and his micro-budget associates improved? Yes, actually, they have. Not that this is "good", by any neutral standards, especially if you're expecting anything like glossy, big-budget SF. However, it does seem more aware of its own limitations, and works within them a lot better than Earthkiller.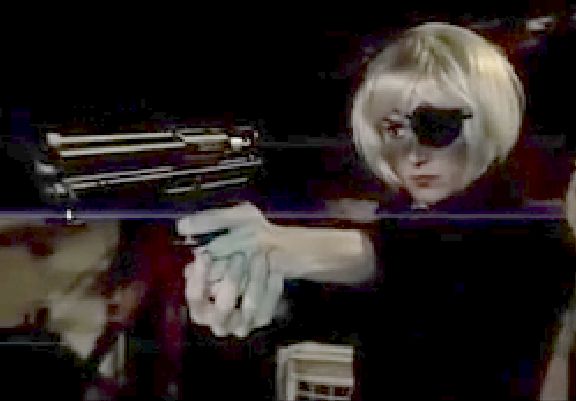 It's set somewhat in the future, where Constable Hawkins (Logan) and her android partner have been ordered to pay a visit to the apartment of a researcher (Murphy), who is allegedly working on a weapon for a notorious terrorist. Unfortunately, the terrorist's henchmen show up at the same time, and the weapon is activated. It consists of a swarm of nanobotz that can "hack" into anything containing electronics and control it. Which is unfortunate, since in this future, all adults have been implanted with an identification chip. Fortunately, the scientist has a somewhat effective countermeasure, but she and Hawkins still have to try and make their way out of the apartment, dealing with both the infected human residents and the automated cleaning robots, that are intent on preventing them.
It's actually not a bad idea, even if derivative of Dread [which was, itself, derivative of a truly superlative Indonesian action film, The Raid] With just a single location, it's a good setting for a low-budget film – except Bellware, for some reason, still injects repeated, really crappy CGI exteriors, and the static-laced camera shots, whether from the android's POV or elsewhere, are also far too excessive. He should just have kept things claustrophobic. A bigger problem are the infected residents, who are about the least threatening monsters I've ever seen: a trickle of blood from the nose and five minutes of Zombie 1.0.1. training do not make you scary. [Indeed, it's probably less horrific than their attempts at acting] The cleaning robot is far more impressive: in form and execution, it appears to have strayed in from a much bigger, better movie.
Logan, sporting a fetching eyepatch, for no readily apparent reason, isn't bad, projecting a degree of no-nonsense competence appropriate to the character. However, in the film's second half, it does degenerate into a long series of sequences in which people creep around corridors, that are neither as tense or as interesting as Bellware seems to think. Though I did appreciate the discussion on whether or not these should be considered as zombies, and whether shooting them in the head is the only way to kill them. If Earthkiller's 1½-star rating was charitable, this one is perhaps a tad harsh, though my appreciation may in part be due to expectations that were not so much low, as subterranean. At this rate, by 2030 or so, Bellware might actually be making decent films.
Dir: Andrew Bellware
Star: Virginia Logan, Mary Murphy, Matthew Trumbull, Dirk Voetberg.