"Black and white and red all over…"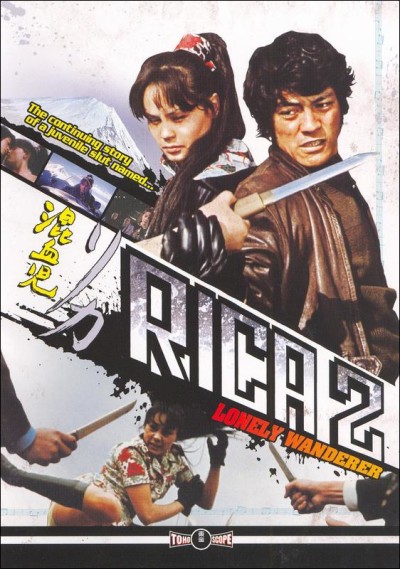 Our mixed-blood heroine is back, albeit with a slightly-different spelling of her name, a C replacing a K. But she's still wading through criminal shenanigans from the get-go, as she escapes from reform school and gets informed that her similarly cross-bred friend, Hanako, is in trouble. The bearer of the bad news is shot dead before she can provide details, and when Rica heads to northern Japan, her train journey leaves a trail of dead bodies, of those apparently intent in making sure she doesn't find out the truth. Turns out Hanako was providing entertainment on a ship, which was sunk by criminals, and one of the gangs responsible, under their female boss Yukie Shimamura (Tonoyama), is obliged to tidy up the loose ends – Hanako is now confined to a mental hospital. The local police, certain members of whom have ties to the gang, are not exactly enthusiastic about investigating any of this, but there's clearly someone (Minegishi) on Rika's side, as she finds herself receiving assistance and protection, from a source whose motivations are initially opaque. However, as the corpses continue to pile up, how long will it be before Rica becomes another one of them?
I'm not sure if the makers are taking this one seriously or not. Some aspects, such as Rica's train ride, have an avant-garde and almost surreal approach, told without dialogue and instead utilizing a series of deliberately jarring cuts, between Rica and close-ups of the sun-glass wearing men who are following her. It's unusual, effective and memorable. But then, there are other moments which are so ludicrous as to be completely laughable. For example, one fist-fight between Rica and a man trailing her, ends with him pulling out a short sword and committing seppuku. Why didn't he – and this is just a casual suggestion – stab her with the freakin' knife. There are also several too many song and dance numbers, mostly courtesy of Rica's transvestite sidekick, though she herself also gets to strut her stuff on the stage at one point. and there's more than the usual amount of casual xenophobia.
Against this, there's no doubt that she seems to kick ass with copious frequency, though the fight scenes here fall more into a category I'd label, "enthusiastically amateurish." It's also nice that she's going up against a female adversary. Shimamura herself makes for an intriguing character, since she's following in her father's footsteps, despite severe misgivings about having to keep the promises he made. The story does build fairly nicely, wobbly through its shakier moments to a final confrontation that ties up the loose ends, yet still leaves things open for a sequel. And, what's this sitting in my viewing pile? Part 3? Despite some undeniable misgivings about the story here, don't mind if I do…
Dir: Kô Nakahira
Star: Rika Aoki, Ryunosuke Minegishi, Taiji Tonoyama, Mizuho Suzuki