"More bemusing than amusing."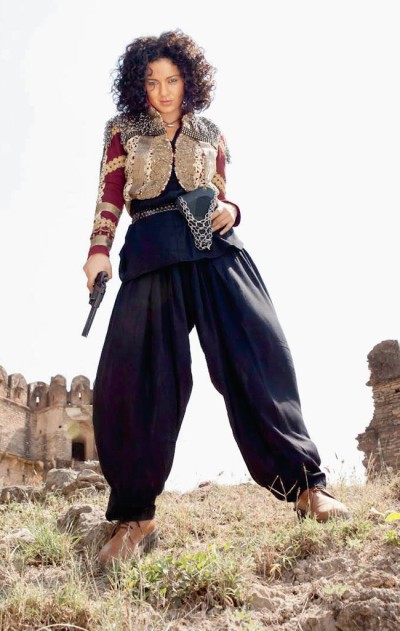 The problem with satire, is you have to know what's being satirized in order to appreciate it. In this case, the twin targets are Indian politics and Bollywood – the local movie industry. I am better informed about the latter than the former, though this is as much because I know virtually nothing about their politics, as because I have the soundtrack to Singh is Kiing [and, yes, that is how it's spelled]. So it's possible the satire here went over my head; however, given it was a box-office flop in its home territory, it's perhaps more likely, this just isn't very good.
I do get that the heroine appears based on Phoolan Devi, the subject of Bandit Queen. who transitioned from outlaw to politics. Here, Alka Singh, a.k.a. "Revolver Rani" (Ranaut), has just seen her group toppled in elections by her opponents in the Tomar party, led by her nemesis Udaybhan Singh (Hussain) – there is also a blood feud there, as Rani killed one of his relatives in her outlaw days. Her political career is further derailed by Alka falling for wannabe Bollywood actor, Rohan Mehra (Das), and the Tomars decided to take some of their revenge on her by kidnapping him. While she rides to the rescue and succeeds in liberating him, their relationship grows increasingly complicated: not only does she have to deal with the Tomars, her uncle (Mishra), who has been carefully plotting her rise to power and influence over the preceding years, is also unimpressed with what he sees as Rohan's distraction. So he drugs his protege, and forces Rohan to marry in order to get him out of the picture, even though alka is, by now, pregnant with his child.
It is, presumably, deliberate that the songs here are quite extraordinarily crappy, featuring lyrics like "I am not bad, I am brutal, my baby/I will eat you like noodle, my baby." And do not even get me started on the band of Michael Jackson impersonators, hired to perform at an event. The main issue is that, after a fun, animated opening credit sequence and Alka's rescue of her boyfriend, we see virtually nothing of her bad-assishness until the very end of the film. Despite her fondness for metallic lingerie, "Revolver Rani" spends most of the intervening time – and, in keeping with Bollywood tradition, that is a lot of time (this runs 132 minutes in total) – either unconscious or wanting to be little more than a mother and housewife. She eventually does rebel against her uncle and his scheming betrayal, just as the Tomars send their forces to take her out, and the resulting gun-battle is impressively-staged; the very end also suggests Kabir has more than a passing acquaintance with Kill Bill. It is, unfortunately, very much a case of "too little, too late," and while I admit this may play better to a native audience, any unprepared Westerner picking it up off Netflix is going to be very, very confused.
Dir: Sai Kabir
Star: Kangana Ranaut, Vir Das, Zakir Hussain, Piyush Mishra