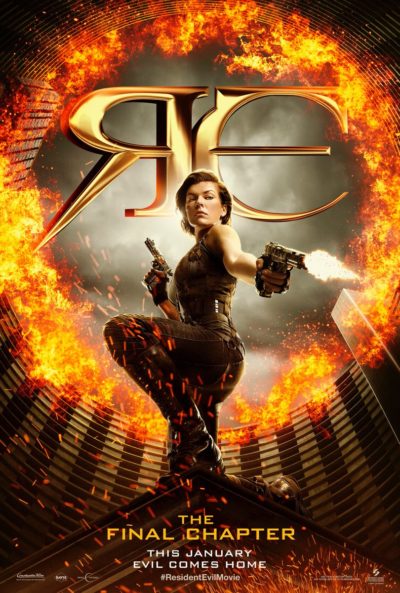 Doesn't time fly? The last entry in the Resident Evil franchise, Retribution, was released in September 2012, so it'll be a gap of almost four and a half years by the time The Final Chapter is finally released in January. It shouldn't have been that long: filming was scheduled to begin in August 2014, but Milla Jovovich's pregnancy caused shooting to be postponed Director Paul W.S. Anderson is also Milla's husband, so he can't exactly complain! Their second child was successfully born in April 2015, and filming eventually commended in September that year.
The production was not without problems, most notably a horrific accident involving stunt double Olivia Jackson. A motorcycle she was riding collided with a camera rig: per Wikipedia, this resulted in "cerebral trauma, a crushed face, a severed artery in her neck, a paralyzed arm, several broken ribs, a shattered scapula, a broken clavicle, torn fingers with a thumb that needed to be amputated, and five nerves torn out of her spinal cord." I've read elsewhere Jackson's face was actually "degloved," which is as awful as it sounds. An even more serious accident followed, with crew member Ricardo Cornelius being crushed to death by a vehicle on set.
On a happier note, a number of characters return from Retribution, including Alice, Claire Redfield (Aly Larter), Albert Wesker (Shaun Roberts) and Dr. Alexander Isaacs (Iain Glen). It takes up proceedings immediately after the end of Retribution, and sees Alice return to where it all began, in Raccoon City. There, she has to take on once more the Umbrella Corporation, which is preparing its final push against the last survivors of humanity. [I must confess, I had forgotten they had any kind of motive, beyond setting up set-pieces in which Alice can kick ass and look cool doing it. I think I may need to watch Retribution again, between now and January]. Though it appears Alice has lost her superhuman abilities, which is going to make things… different as far as her zombie-slaying is concerned. What the hell is she supposed to use, man, harsh language?
Fortunately, the trailer makes clear that sarcasm is going to remain a minor weapon in Alice's arsenal. Accompanied by the rocking sounds of Guns 'n' Roses, we see Alice riding her motorcycle back to Raccoon City, and indeed, returning to her literal roots.  You definitely get the sense of things having come full-circle, not least with the return to the laser-protected corridor, which provided one of the first "F___ me! Rewind that!" moments of the series. I hope the defense system has retained the sense of dramatic escalation shown there. So, generally, I'm looking forward to this, and hopefully it will provide a suitable exclamation point for a franchise which will have run for close to 15 years.
Of course, putting The Final Chapter in your title is no guarantee of anything. Just ask Friday the 13th, which continued for nineteen years and seven further movies after their "Final Chapter" in 1984, then was rebooted entirely in 2009. If the box-office returns are good, I would not be in the slightest surprised if Sony/Constantin Films keep squeezing the cash-cow. While the returns have been moderate in North America – the biggest being 2010's Afterlife at $60.1 million – they have done increasingly well overseas. Over 82% of Retribution's income came from there, and the series as a whole has grossed over $915 million. Not bad for a total production cost of $250 million.
Resident Evil: The Final Chapter opens in North America on January 27.