It may have under-performed in North America, but as with the previous couple of installments, Alice and crew blew away the competition overseas. Having already taken more in Japan than the US and Canada, the film just opened in China, and also surpassed its entire domestic theatrical run there on Friday alone. It earned $33.6 million on that one day, compared to $26.5 million to date here. The film then took even more on Saturday, and finished the weekend having grossed an amazing $94.3 million. This tally makes it the biggest overseas opening ever in China, according to Sony, and only second all-time behind local production, Lost in Hong Kong.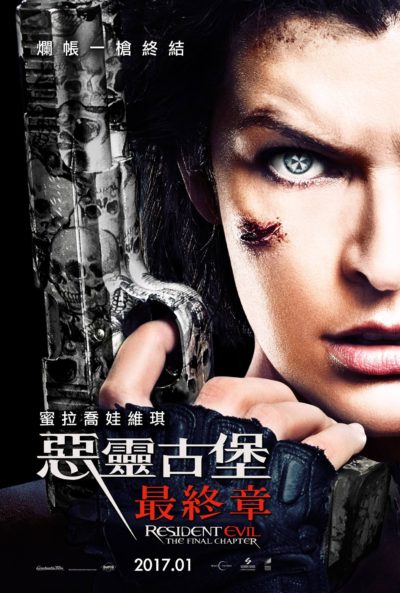 The success comes despite the first three films never having received any kind of theatrical release there. This absence was due to a combination of the country's limited number of "slots" for imported movies, and censorship rules that tend to hammer anything involving ghosts, the dead, etc. For instance, last July, the Ghostbuster remake was denied a release there, for precisely the latter reason, and World War Z was also blocked in China. Though the latter's ban may have had less to do with zombie killing, and more to do with Brad Pitt; the government haven't been a fan of his since he made Seven Years in Tibet, which was harshly critical of authorities there.
The Final Chapter does not seem to have escaped entirely unscathed. The running time of the "approved" version for China comes in at about eight minutes shorter than the version we saw here in the West, but this does not seem to have had any impact at all on the film's commercial appeal. As a convenient yardstick, also opening this weekend was the Assassin's Creed movie, which earned twice as much as RE6 in North America. But in China, its Friday tally was only $6.3 million, earning less than one-fifth of Milla's moolah.
The success also continues a trend which has seen the franchise increasing its non-domestic box-office percentage almost since the beginning. Below are the figures for each film: the North American box-office, then the overseas box-office, the total, and the percentage of the total derived from foreign territories:
Resident Evil – $40.1m, $62,9m, $103.0m, 61.0%
Resident Evil: Apocalypse – $51.2m, $78.1m, $129.3m, 60.4%
Resident Evil: Extinction – $50.6m, $97.8m, $148.4m, 65.9%
Resident Evil: Afterlife – $60.1, $240.1m, $300.2m, 80.0%
Resident Evil: Retribution – $42.3m, $197.7, $240.0, 82.4%
With The Final Chapter coming to the end of its domestic run, its percentage will be skewed even further. The Chinese weekend pushes overseas box-office well past $200 million, so its final percentage of theatrical takings could end up being north of 90% from overseas. Even as these markets become more important, representing 73% in 2015 (it was a minority a recently as 2004), and while that money may not equate dollar-for-dollar, due to different slicing of the piece, it would still be a striking skew. Indeed, it'd be almost unparalleled for any English-language film – although I note that another video-game adaptation, Warcraft, came close, reaching 89.1%.
This may well be Milla Jovovich's last foray into the Umbrella universe. Yet its continued success worldwide means I'd be very surprised if this is the last we see of Resident Evil as a movie franchise.