"1980 called. They want their action film back."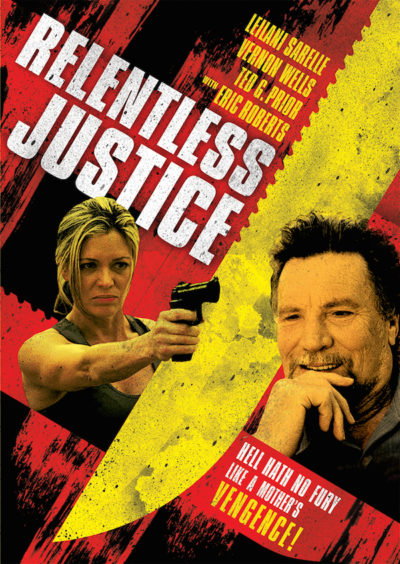 Before his death last August, Prior had a long career churning out straight-to-video action flicks with amazingly generic titles. Have a few samples. Deadly Prey. Death Chase. Invasion Force. Raw Justice. You get the idea. He was also responsible, on this site, for Mankillers, and returns to the female fray with this, which also mines another popular trope of the action film genre, the "hunting of humans", which dates back to 1932's The Most Dangerous Game.
Victoria De Vries (Sarelle) is a quiet suburban mom – albeit, one who happens to be the owner-operator of a martial-arts gym, and who used to be a member of Australian special forces. Her daughter heads off for a weekend's camping with her boyfriend, but runs afoul of the local rednecks, led by local mayor Jason Macendale (Wells). They slit his throat and kidnap her – but when they discover mom's background, use her daughter as a lure for their next bit of sport. Little do they know what they are getting into, however, and may have bitten off a lot more than they can chew, even with help from another special forces veteran, Joe Mangine (Rolston).
I had to think for a while and figure out why Sarelle's name was familiar, and eventually remembered she played Sharon Stone's girlfriend in Basic Instinct, back in 1992. Hardly seen her in anything since, and she's certainly changed a bit – now, all "mumsy" and sporting an Australian accent for some reason that serves no apparent purpose, not even a  "That's not a knife…" joke. The main problem here, is it takes way too long to get to the crunchy stuff, of Victoria kicking ass and breaking bones – literally, the final ten minutes of the movie have all the good stuff there. Up until then, you've got a lot of sitting around chit-chatting, with Roberts wheeled on for a role of absolutely no relevance at all, playing a big city mobster.
Sarelle isn't actually too bad; from what I've read Kathy Long, five-time world kickboxing champion, was in charge of stunt coordination and fight choreography, and seems to have done a decent job in making the heroine look credible. Unfortunately, the same can't be said for everyone else, and in particular there's one knife fight, which is among the most cringe-inducingly terrible of all time [names redacted to protect the inept]. This all might have passed muster in a more innocent time, when audiences were happy to put up with low-rent former stars running around a forest, while someone shoots them with a video camera, accompanied by a low-fi synth soundtrack (courtesy here of the workmanlike Chuck Cirino, who has been a staple for the likes of Jim Wynorski over the past three decades). Now, viewers are… well, if I'm reluctant to say "more sophisticated", this kind of second-tier production needs to be a good deal more self-aware, or at least provide something not findable in better quality with three clicks on Netflix.
Dir: David A. Prior
Star: Leilani Sarelle, Mark Rolston, Vernon Wells, Eric Roberts