"A not-so-animated feature"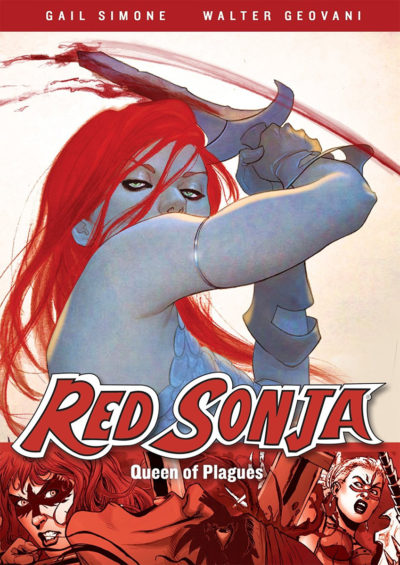 The rating here is largely based on my (I'd say, not unreasonable) expectation going in, that this would be actual animation. It isn't. This appears to be, what I've since learned is called, a "motion comic": think of it more as an illustrated radio play, with voice actors playing the parts in front of somewhat animated panels. And when I say, "somewhat", I mean there is typically no more than one thing moving on them e.g. a character's mouth. I can see comics for which this approach would work; unfortunately, a heavily action-oriented story such as Red Sonja is not among them.
It's a shame, as the story and voice acting are both quite well-done. Sonja (Lee) and another prisoner are rescued by King Dimath, from a dungeon where they had been forced to fight other captives for the amusement of their captors. Years later, Dimath sends Sonja a call for help. His kingdom has fallen prey to a plague, and a horde is about to sweep through it, intent on salting the earth to prevent the disease spreading. And, wouldn't you know it, commanding that horde is Annisia (Strom) – who just so happens to be Sonja's co-captive from her time in the dungeon. Her experiences have pushed her into quite a different psychological path, shall we say.
It reminds me more than a little of the Xena: Warrior Princess arc which pitted Xena against her own blonde nemesis from the past, Callisto. That's not a bad thing, and there's no shortage of strong female characters, such as the bow-wielding bodyguards Dimath dispatches to stand alongside Sonja. Admittedly, they are more used to taking out rabbits – which may or may not be a Holy Grail reference. Yet what they lack in combat experience, they more than make for in the effusive complimentary terms by which they address Sonja, e.g. "your radiant ladyship," "majestic blade mistress," "our glorious sword princess" or even "she of the excellent cleavage"!
Lee certainly gives it her all, and so do the rest of the cast. It's just that this needs a far greater range of motion than it gets here. These should be epic battle scenes, drenched wall-to-wall in blood and flying body parts – not still panels, with maybe an arm holding a sword moving slowly across the frame. If this had been the full-on animated feature I was expecting, all the other pieces are in place for it to have surpassed, by far, the woeful Brigitte Neilsen movie. It's a damn shame the approach taken, instead robs all these aspects of their vitality and energy. What you're left with falls short of reading the comic, because you have someone else turning the pages.
It's barely an adequate place-holder for the proposed live-action version. That feature has been circling development hell since it was announced in 2008, with names as diverse as Rose McGowan, Megan Fox and Amber Heard linked to it. Last I heard was Feb 2015, when a new writer came on board. At this point, I'm certainly not holding my breath…
Dir: Gail Simone
Star (voice): Misty Lee, Becca Strom, Shannon Kingston, Tyler Nicol