"No, we still don't get to win this time."
In 1920's Vietnam, the French are in control, but there's a burgeoning insurgency. Vo Thanh Thuy (Ngo), the daughter of the rebellion's leader, is arrested during an assassination attempt on a high-ranking colonial officer, but is broken out of captivity by Le Van Cuong (J. Nguyen). He's an agent in the secret police, but has grown weary of the conflict and the toll it is taking on his fellow countrymen. Vo needs to return to her father and tell him about the mole in his organization, but the pair are pursued on their way back by Sy (D. Nguyen), Le's sadistic superior.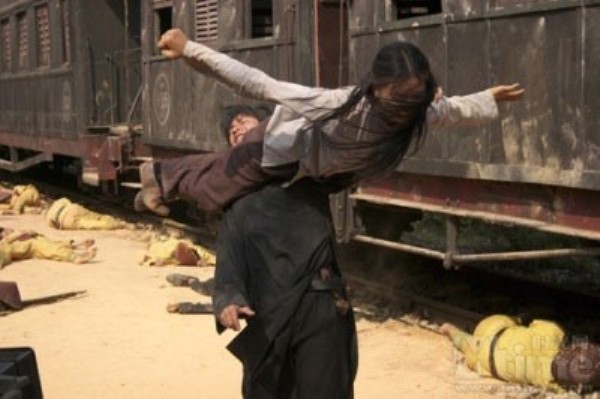 It's a relatively simple storyline, albeit with one significant twist that I won't spoil – though must confess, didn't come as much of a shock. However, it benefits from a fresh setting, a slick look that combines well-executed period atmosphere and solid production values, and reasonable performances. On a few occasions, I was reminded of Tsui Hark's Once Upon a Time in China series, which has a similar feel, not least in a portrayal of the colonialists that would never be described as remotely sympathetic. Still, this was intended for local consumption, and did very well when it came out in 2007, setting a Vietnamese box-office record for a locally-produced movie.
The main selling point in the West would be the fights, which are particularly hard-hitting. It appears Vietnamese martial-arts owes more than a little to Muay Thai, incorporating a lot of the same elbow and knee strikes. The version depicted here is also flamboyant on occasion, with J. Nguyen in particular flying through the air to deliver spinning kicks to his opponent's head. For our purposes though, the focus is on Ngo, who was already famous in her home country at the time as a singer and actress, Indeed, she already had martial-arts experience, thanks to Rouge, her 2004 MTV series which "follows a Southeast Asian all-girl rock band who are also high-tech special operatives working for a global crime-fighting organization." As they do. [Have a promo clip.]
Ngo certainly delivers, producing an impressive set of moves that are virtually the equal of her male co-stars, with balletic grace that reminded me a bit of a young Michelle Yeoh, culminating in the move captured on the right, and seen in the trailer, which is a wonderful cross between MMA and lucha libre. I don't know why she hasn't subsequently become a star, though did have a supporting role in Crouching Tiger, Hidden Dragon: Sword of Destiny last year, so is still active. Her character is certainly the emotional heart of this film, and is more important than I expected.
If there's a flaw, it's mostly Sy, who is not much more than your standard frothing psychopath, and the efforts to give him back-story fall completely flat. He appears impervious to edged weapons, for some reason which is never explained and is entirely wasted as a plot-point. Indeed, most of the story is fairly obvious, and I'll confess to rolling my eyes occasionally, at the blossoming relationship between Vo and Le. The positives, however, outweigh the problems, and this is a straightforward and two-fisted tale, generally well told.
Dir: Charlie Nguyen
Star: Johnny Tri Nguyen, Veronica Ngo, Dustin Nguyen, Stephane Gauger