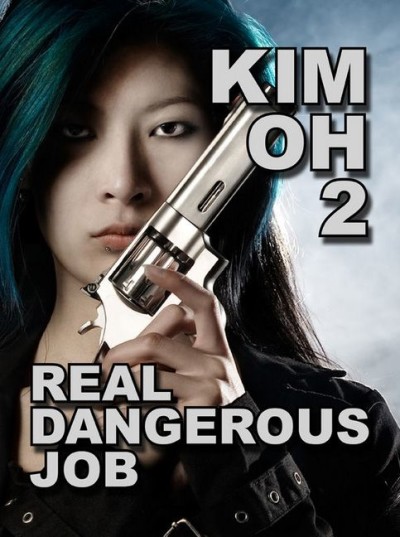 I was graciously given a free review e-copy of this second series installment by the author, with no strings attached. As in the case of the first one, I blazed through it; it's compulsively readable, and I made every opportunity I could to log on to it. Had time permitted, I'd have read it in one sitting –it's that compelling.
Much of the evaluation and background material in my review of Real Dangerous Girl applies to this sequel as well. Here, Jeter brings the immediate story arc begun there to a close, while leaving the future open. The themes of coming-of-age, "primitivism," and darkness vs. light begun in the first book are also explored further here, to serious effect. Kim has to really grapple here with the significance of what she's decided to do, and face the fact that it's changing her into a person who's less innocent and less gentle, and that this isn't necessarily a good thing. But that's set against other psychological factors of self-actualization and self-determination that aren't wholly negative either. This isn't the story of a good girl changing to a bad one. It's the story of an essentially decent girl learning to balance who she is with a world that's far from decent, with no other guides (besides a very dubious mentor) than her heart and her conscience. And this will be reflected in the real moral choices that come her way.
We get to know Kim better here, as a person as well as the fact that she's only 17 (as an "emancipated minor" –though we already knew she was pretty young). Other supporting characters are back and developed in more depth as well –not surprisingly, Cole, Donnie, Monica, McIntire and his chief goon Michael (and more surprisingly, TV newswoman Karen Ibanez). Also, we learn that our setting is a city in upstate New York (a character comes "up from Albany," an expression that wouldn't apply to New York City, which is down the Hudson from there, but would to cities built in the higher ground above the river valley). Jeter has kept his moral vision and standards of literary quality here. Again, there's no sex, and bad language is restrained. Action fans who felt that the first novel was light on violence (several people die there, but in only two parts of the book) will get more of it here, and Kim will be an active participant in more of it. Her development into someone who can both psychologically and physically handle that, as Jeter presents it over the course of the two books (rather than overnight) is believable. But again, the violence is handled tastefully, with no wallowing in gore for its own sake.
I didn't have any issues with plot credibility here, and the pacing and developments are excellently crafted to keep a high level of suspense and tension, again building to a very powerful climax. Jeter imparts a lot of obviously well-researched information about guns and ammo, explosives, body armor and other technical equipment that adds verisimilitude without being info-dumped in in such large doses that it takes away from the movement of the story.
Kim's a heroine I think many characters can relate to in her moral quandaries, even though they involve extreme situations most people don't face –because, as she muses at one point, everybody, or just about everybody, at times has people who, at one level, they might like to kill, and figure the world would be better off without. The moral possibilities Jeter is using action-adventure fiction to explore are possibilities, or temptations, that confront us all.
One of the greatest strengths of these books, IMO, is the brother-sister relationship between Kim and Donnie, which is genuinely beautiful and touching (and a two-way street of caring and emotional support). As an only child, I never had a sister; but if I'd had a big sister like Kim, I think I'd have counted it an enormous blessing!
Author: K. W. Jeter
Publisher: Self-published, available through Amazon, only as a Kindle e-book at this time.
A version of this review previously appeared on Goodreads.