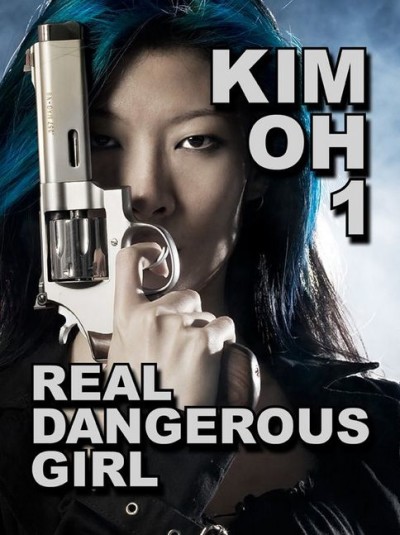 "I didn't start out killing people," the petite, under-21 Korean-American narrator of this first book in the author's Kim Oh series observes matter-of-factly in the opening sentence. "I had to get to that point. Kind of a work ethic thing. But once I decided to do it –it worked out. I mean –not for them. The people who got killed. I mean for me." This isn't the voice of an egoistic sociopath, though. Kim has a conscience and sound moral instincts; she doesn't pick up the gun readily, and when she does, the danger she poses isn't to the innocent. (But the guilty had better watch out!)
When I read a glowing review of this novel by one of my Goodreads friends (who went on to glowingly review the subsequent books), it put the series on my radar; so when I saw that the first book was available for free on Kindle, as a hook for the series (it now costs 99 cents), I seized the opportunity to preview it in that format. Jeter is a very successful author with substantial Big Publishing credentials (he chose to go the self-publishing route with this series, and according to his website is excited enough about it that he's no longer working on anything else). This was my first experience with his work, but I found his craftsmanship and professionalism very evident. It says something about the compulsive readability of this tale that I read the entire novel in two days, which I think is something of a record for me.
Kim's world is, as a blurb puts it, "dark and gritty." Orphaned young, she and Donnie, her wheelchair-bound and ailing younger brother, were shunted around through foster care most of their lives. Not yet 21, she's put herself through junior college early by taking advanced placement classes, and taken advantage of bookkeeping skills picked up from a foster mom to get the only kind of job that offered, in order to be able to make a home for Donnie with her. But what offered was a low-paying job as accountant for what she's come to realize is a really "dodgy" enterprise, run by a mobster who uses her, among other things, to write checks to pay a guy she suspects is his contract hit man. Pragmatic and a survivor, she's able to tolerate that, though she doesn't like it. She clings to the promise her boss made that when he takes the company legit (or at least gives it a more convincing "legit" facade), she'll be CFO, with better pay and a better life for her little family unit. Instead, she's shafted and thrown out in the alley like garbage, while a Harvard grad gets the big job. Hit man Cole is similarly downsized, except that his severance leaves him permanently crippled.
These two don't immediately join forces, and when they do, she's not motivated solely by wanting revenge (although Cole is). Jeter's plotting is a lot more nuanced and developed than that. (Firing her didn't exhaust Mr. McIntyre's malice; if he survives, she and Donnie might not.) Kim's a fascinating, three-dimensional character who develops in front of our eyes here, as she moves from what she calls her "Little Nerd Accountant Girl" persona to something else. We can see that she's attracted to the feeling of empowerment that can come from learning to stand up for herself, and from handling a gun. Some of the same appeal of "primitivism" that readers find in Burroughs and Robert E. Howard is present here, with a protagonist who's challenged to make her way in a world where the outward conventions of civilization no longer apply. And she gives voice to the anomie of vast numbers of contemporary Americans in her generation, growing up bereft of community and moral/spiritual guidance. (Not identifying with her Korean heritage, at one point she calls herself Feral-American, like the rest of the population. "Nobody tells us what we should do, what we should even freakin' be…. I gotta try and figure out everything on my own, just like everybody else has to.") But her instincts are sound, and she remains an essentially decent and likeable person.
The narration here is in first-person present tense, with creative modification where necessary. Jeter's free-flowing prose never detracts from the story. He delivers violent but never gratuitous action here. with a high body count, but no stress on gore and no "pornography of violence." (Most of the bodies aren't dropped by Kim, given her relatively low kick-butt quotient above; but she's just getting her start in action heroine-hood here. That quotient is apt to rise in the succeeding books.) His emphasis, though (and what makes the book as good as it is) is character development. Kim herself, of course, takes center stage, but all of the supporting characters are vividly drawn, too (though except for Donnie they're unlikeable; and we can see that Cole's a much darker personality than Kim is –and that he's manipulating her for purposes of his own.)
The plot is finely crafted, building perfectly to a powerful denouement and conclusion (which makes it clear that the saga is just beginning). We aren't told the location, except that it's a city that has cold weather in winter; sense of place isn't strong, but that adds to the milieu of rootlessness and atomization. In its way, this is a kind of coming-of-age story. Darkness abounds, but it's not without light, and a sense of hope even when things are darkest. There's no explicit sex and very little reference to sex at all, and no obscene speech –indeed, very little bad language at all, and what there is isn't very rough for the most part. (Jeter uses it sparingly, for realism, but he demonstrates restraint and taste in how he does it.) One plot element, IMO, doesn't stand examination too well; and real-life child welfare agencies wouldn't, as here, put kids in foster care in different states (because they're state-specific). But those were relatively minor quibbles. This is a great start to what promises to be an outstanding series!
Author: K. W. Jeter
Publisher: Self-published, available through Amazon, at this time only as an e-book.
A version of this review previously appeared on Goodreads