"Should come with a box of moist towelettes."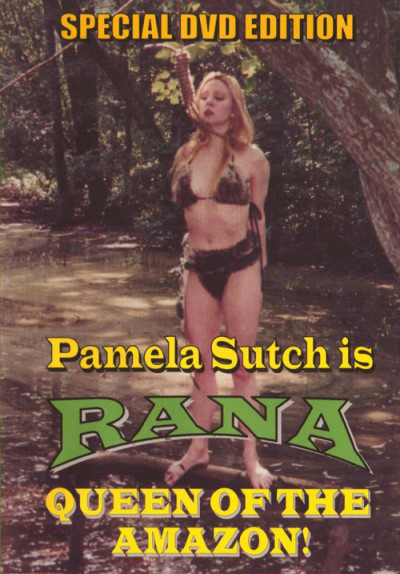 There are times when watching a film raises existential questions. Who are we? Where are we going? Or, in this case, why the hell did I start this damn website if it means I have to watch stuff like this? I knew, going in, it would bve cheap, but I was hoping for something light-hearted, a tribute to the "jungle girl" serials of the forties. Hell, I'd have settled for a micro-budget version of The Perils of Gwendoline, a film which manages to be both innocent and incredibly trashy at the same time. Instead, what I got was something that was badly-made and, frankly, creepy. I think the sequence which drove this home was when American agent Alexandria Solace (Murphey) was running through the "Amazonian" forest [quotes have rarely been used more advisedly] when she falls into a pool of quicksand. And spends the next, seven minutes, thrashing around in the mud, trying to climb out, in painfully obviously pandering to a certain, specialized fetish market. Not being part of said target audience, it was the longest seven minutes of my life. There was also rather too much… strangulation going on – to similar purpose, one imagines.
The feature is divided into three "episodes", so does seem to be aiming for a serial approach, with titles being "The Jungle Woman versus the Nazis", "The Jungle Woman and the Flowers of Death" and "The Jungle Woman and the Fangs of Death". Though would it be churlish of me to note that there is only one actual Nazi? That would be Ilsa Von Todd (Krause, who has gone on to a semi-respectable career in B-horror), whom we first see plotting to take over the world with her army of mind-control zombies. [Actually, we first see her putting on her stockings. V-E-R-Y  S-L-O-W-L-Y] Though she hasn't exactly got very far – the army count reaching precisely "one" – it's apparently deemed sufficient threat for the US to send agent Solace down to the Amazon to stop her. Which she does, with the help of Lana, and after significant amounts of thrashing around and unconvincing fisticuffs between the three of them and the zombie.
However, no sooner has Von Todd been returned to the United States, than she escapes and heads back to the jungle, to take revenge on Lana in the second installment. Beginning with the quicksand scene mentioned earlier, this involves also involves Lana being tied up and struggling against her bonds for an extended period, before finally escaping through the kind of ludicrous deus ex machina which does, I guess, also harken back to cliffhanger serials. The finale sees [sigh] Von Todd escaping from federal custody again, but don't ask me any details, since I had lost the will to live by this point. I do seem to recall a "snake" at one point which was clearly a green sock puppet.  I may have hallucinated this. The best thing I can say, is the theme song is kinda catchy. Otherwise, let us never speak of this again.
Dir: Gary Whitson
Star: Pamela Sutch, Tina Krause, Dawn Murphey, Laura M. Giglio