"Alien apocalypse? Time for a nice cup of tea."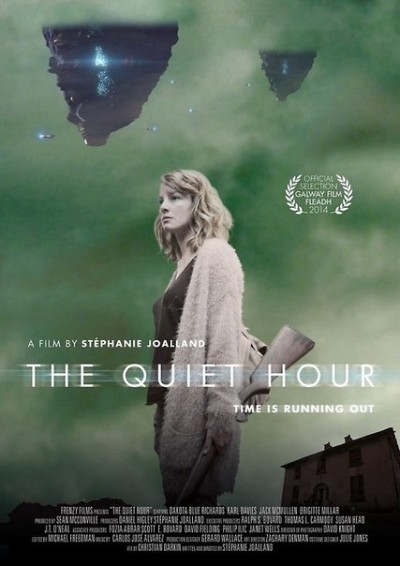 It took me forever to figure out where I'd seen the heroine before. Turns out Richards was also the young central character of The Golden Compass – though in my defense, she was two-thirds of the age she is here. The film takes place some time after an alien invasion has effectively destroyed humanity, in order to strip-mine resources from the earth's core: for all except a brief period of two hours each day, anyone found outside is ruthlessly tracked down and killed by the aliens' craft. Hiding out in their rural farmhouse are Sarah (Richards) and her brother, Jude (McMullen), the latter having been blinded during the initial assault. Their isolated security is disrupted by the arrival of the wounded Tom Connelly (Davies) – he is being pursued by another group of survivors, with highly unpleasant dietary habits and led by Kathryn (Millar), who lay siege to the house, demanding Sarah hands over Tom to them.
By coincidence, I watched this the same week as the similarly-themed (though alien-free) October Gale, with Patricia Clarkson as the woman under siege after helping a wounded guest. This is actually better, with the director here having a better handle on the escalating tension, and Richards giving a solid performance, trying to put a brave face on a steadily-disintegrating situation, for the sake of Jude. What's curious here, is how the aliens are almost irrelevant to the rest of proceedings: for virtually the entire movie, they're just a backdrop in front of which the bigger threat, of Kathryn and her clan, plays out. It's a strange approach. I kept expecting the extraterrestrial angle to be more significant, and if you're expecting something like a British version of Independence Day, you are going to be very, very disappointed, as this is much more slower-paced, almost to the point of glacial.
However, I can't say I minded too much, as that makes for a more character-driven movie, and the aliens' almost-complete indifference to humanity is, in some ways, more chilling; it's as if we were insects, worthy only of swatting. On the other hand, it feels a bit of a bait and switch, being little more than an excuse for why there's no external help coming for the siblings – a slightly more sophisticated version of waving a cellphone around and saying, "No signal". Still, Sarah has a nice sense of English resolve to her, in a 'Keep calm and carry on' kinda of way, and Richards shows enough here to make her a name to look out for. Hopefully, The Golden Compass, will not be her sole big-budget effort, since on the evidence here, she deserves better..
Dir: Stéphanie Joalland
Star: Dakota Blue Richards, Karl Davies, Jack McMullen, Brigitte Millarof