"Court in the act."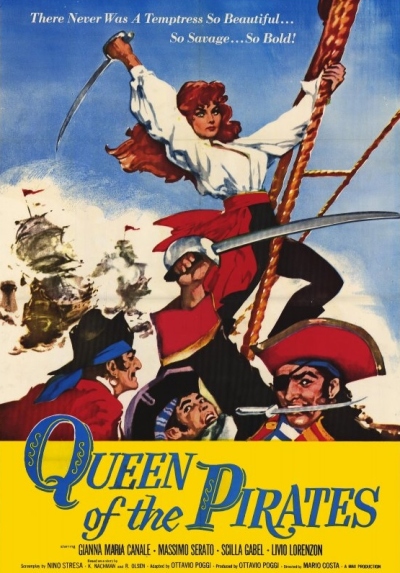 Sandra (Canale)  and her father fall foul of the local tyrannical Duke (Muller) after they refuse to pay his excise duty. Arrested, the arrival of the poor but noble Count of Santa Croce, Cesare (Serato), saves them from death – or a fate worse than in Sandra's case, as the Duke has a profitable sideline, shipping local girls off to the Middle East. After escaping, they join up with a local pirate band, who agree to help target the Duke after Sandra bests their leader in sword-play. To gain the hand of the duke's daughter, Isabella (Gabel), Cesare agrees to hunt down the "Queen of the Pirates" who has brought trade to a standstill, not knowing that his target is the same woman he helped save, and since then has had a secret longing.
Its storyline is more than slightly similar to the other Italian piratess movie we also covered here, Queen of the Seas, from the following year. This is slightly weaker, mostly because Sandra ends up taking a back seat to the heroic Cesare in the second half, though it benefits from a solid supporting performance by Gabel, who brings a genuine nastiness to her role as the spoiled heiress, who is perfectly happy to endorse Daddy's white slavery operation, as long as it keeps her in jewels and pretty dresses. The shift in focus from Sandra is disappointing, not least because she can handle a sword pretty well – that's clear right from the fight against the Duke's excise-men, and reached its peak during the friendly duel against the pirate king. Really, given the era (1960) and Canale's provenance as a former runner-up in Miss Italy, it's genuinely impressive.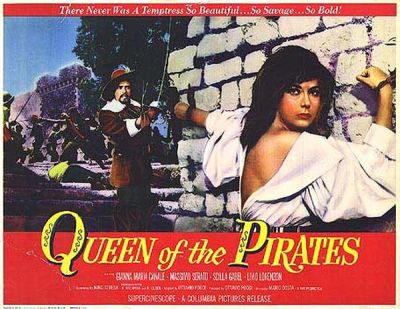 From about the midpoint on, it is entirely predictable, and becomes much less interesting as a result, despite some efforts to suggest that Cesare might not really be smitten by the heroine – just pretending to be, in order to lure her in. There's also some desperately unfunny attempts at comedy, courtesy of his squire, and the English dub appears to have been written by someone practicing for International Talk Like a Pirate Day, spattering every other sentence with gratuitous nautical vernacular. I can't call it disastrous, and at 75 minutes, doesn't outstay its welcome; there's just too much queening and not enough pirating in this for me.
Dir: Mario Costa
Star: Gianna Maria Canale, Massimo Serato, Paul Muller, Scilla Gabel
a.k.a. La Venere dei Pirati