"Just deserts"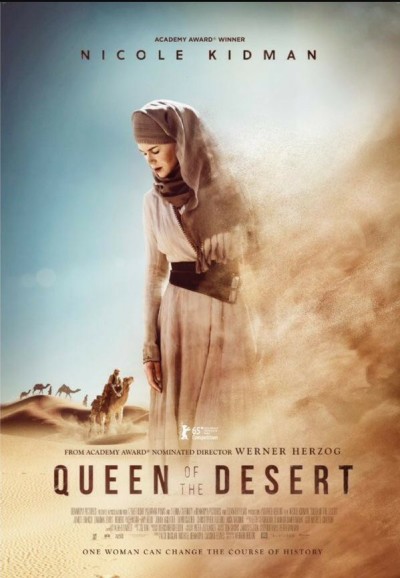 Eccentric explorers with strong personalities facing the challenge of the wilderness is hardly uncharted territory for Herzog. Most famously, his pair of incendiary collaborations with fellow German, Klaus Kinski, Fitzcarraldo and Aguirre, Wrath of God are both classics, so I had high hopes for this biopic about Gertrude Bell, who was, according to her Wikipedia page, "an English writer, traveller, political officer, administrator, spy and archaeologist," operating in the Middle East during and after the first World War.
Daughter of an English baronet, she found the aristocratic English life stifling, and want to Teheran where her uncle was a diplomat. She fell in love with the region and its people, and spent almost the entire rest of her life there. It was a time of turmoil, as the ruling Ottoman Empire was collapsing, with other Western empires, including the British, seeking to take over the territory. In that setting, Bell's expert knowledge of the region was invaluable, and she became an intelligence asset, working alongside T.E. Lawrence (Pattinson). better known as Lawrence of Arabia. But her personal life was more troubled; her father refused permission to marry her first love (Franco), who then committed suicide. After a long lay-off from love, she begins a relationship with soldier Charles Doughty-Wylie (Lewis) – who is already married.
Herzog's work is at its best when he invests fully in it, such as Fitzcarraldo, where he told the story of a man who dragged a steam-boat over a mountain (for rubber plantation purposes), by actually dragging a steam-boat over a mountain – watch the documentary, Burden of Dreams, for more on this, and the psychological toll the whole production took on the director. Here, you don't get any sense of personal cost; it's probably the most slick and Hollywood film Herzog has ever made, and that takes away more than it adds. Kidman is decent enough, yet her depiction is likely too restrained. It peaks very early, with Bell's barely-suppressed, seething hatred for the suitors who come to woo her in England, and there are not many occasions after, where you get any sense of emotion. The desert landscapes are impressive [not the first time Herzog has been there either; see his post-war documentary on the Kuwaiti oil fields, Lessons of Darkness], yet there's only so often you can watch Bell riding across them while a vaguely epic score swells behind her, before the impact diminishes.
All told, you probably get a better insight into Bell's life from reading the Wikipedia page mentioned earlier. The obituary quoted there is likely a better testament to its subject, than the two hours of scenic desert landscapes and unresolved sexual tension we get here:
No woman in recent time has combined her qualities – her taste for arduous and dangerous adventure with her scientific interest and knowledge, her competence in archaeology and art, her distinguished literary gift, her sympathy for all sorts and condition of men, her political insight and appreciation of human values, her masculine vigour, hard common sense and practical efficiency – all tempered by feminine charm and a most romantic spirit.
Dir: Werner Herzon
Star: Nicole Kidman, Damian Lewis, James Franco, Robert Pattinson