"Questionable quarrels."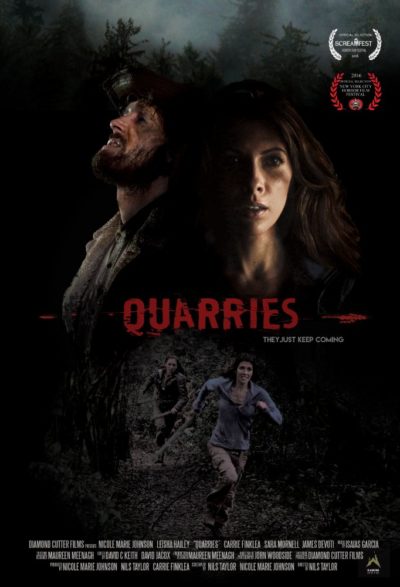 It's not often a film manages to be under-written AND over-written. Yet this tale of wilderness survival does both. A group of women are out on what's supposed to be an empowering hike through the forest, designed to boost self-reliance, esteem and all that good stuff. But they come under attack from a group of local men, apparently intent on a hunting expedition, with the woman as the prey. They'll need to learn survival skills, that's for sure.
There's a not-so-subtle message of gender politics here. The males here are all utter bastards or completely ineffective. Heroine Kat (Johnson, who also co-wrote the script with the director) is there to get away from an abusive relationship. It's brick-like in its obviousness, yet it's almost half-way before the two sides face off. Until that point, it's virtually a poster-child for demonstrating why one of the rules of cinema is "show, don't tell". This does far too much telling, and to negligible effect. Maybe there are just too many members in the party, to allow for decent fleshing out? Beyond Kat, none of them are given any depth, defined by one or two simple characteristics. And I note the film's fondness for liberal gender politics doesn't extend to issues of race, perpetuating one of the most common genre stereotypes [minor spoiler at the link].
After an immensely annoying first half, things become somewhat better, when the film climbs off its soapbox, and gets down to the raw meat of rednecks vs. disgruntled women. However, we're never given anything approaching an explanation for the huntsmen. There's some vague hints in the intro about this being a former mining area, and one of the participants has a nasty burn on the side of his face. Quite how this ties into creating a pastime inspired by The Most Dangerous Game, is never clear. Given all the screen time (ineffectually) put into the victims' back stories, you feel they could have spared two minutes and given a coherent motive to the other side.
The women handle themselves surprisingly well in the battle, making good use of the environment – which, basically, means clobbering the men with branches, rocks, and anything else the environment can provide them. Possibly a bit too good, given the absence of anything to explain why they can go toe-to-toe with opponents who are generally bigger, better armed and have the advantage of home territory. Yet these heroines seem curiously averse to taking weapons off those who are attacking them: I'd be looting the bodies and powering up with anything I could find.
The closest parallel I can provide in overall tone, might be to think of this as like an above-ground version of The Descent. Yet it's not as entertaining or well put together: there, the lack of any real explanation for the cave-dwelling creatures didn't pose any issue – because monsters. But when you introduce a human element, there generally needs to be at least some kind of motivation provided, or it just seems like lazy film-making. Despite some decent performances – not least from Johnson – it falls flat and forgettable. On the evidence here, she's a better actress than a scriptwriter.
Dir: Nils Taylor
Star: Nicole Marie Johnson, Leisha Hailey, Carrie Finklea, James Devoti