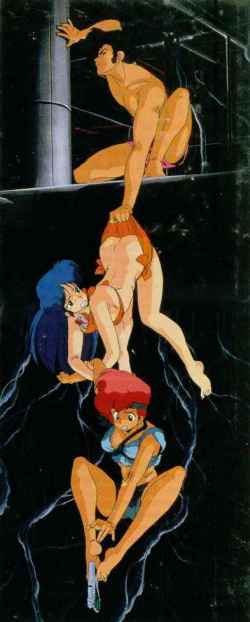 If you're going to start with Kei and Yuri, this is as good a spot as any; it may not be the first entry in the series, but requires no prior knowledge at all. Even complete novices will be up to speed by the pre-credit sequence, which sees them – oops! – destroying an entire space-station after they decide to pursue the bad guy, rather than handling the explosive suitcase with which he has tried to distract them. They're then sent to investigate some strange happenings on a mining planet, which is being plagued by attacks from monsters. They discover that the creatures are the results of failed experiments by Dr. Wattsman, who has plans to force nature's hand, by making the next evolutionary step beyond mankind. Meanwhile, gentlemen thief Carson D. Carson is there, for his own reasons.
Pop-culture nods go to everything from James Bond through Star Wars to Aliens, though the female leads helps give familiar scenarios a fresh air. It's clearly not to be taken in total seriousness, for example, Kei and Yuri pausing mid-mission to take baths (though like everything else in the show, it's no more than PG-13 rated). The action is frequent, particularly towards the end, with some monumental battles between the girls and Wattsman's monsters, accompanied, as is the entire film, by a smooth jazz-funk soundtrack [not normally my cup of tea, I'm still whistling Over the Top, days later]. There's also some surprisingly touching stuff between Carson and Yuri, though he is always firmly in the back seat. Naturally, it's Kei who has an eye for him, a constant factor through almost every version.
Technically, it's as nice as you'd expect from a theatrical feature – it was originally part of a double-bill at cinemas with Bat and Terry, an animated film about baseball players which is all but forgotten now. Project Eden (a title used solely in the West: I'm looking at the Japanese LD, which just says Dirty Pair: The Movie) does look somewhat dated, and to be honest, the plot wouldn't really stand up to serious inspection [Wattsman apparently runs his massive industial-scientific complex with the help of one guy, his butler, Bruno]. But as a semi-spoof, say along the lines of Our Man Flint, it works very nicely and is solidly entertaining, with slick production values and a good sense of fun. It is also a fine demonstration of one of anime's strengths, the ability to give full rein to unfettered imagination, and create a world where anything can happen.
Dir: Kôichi Mashimo
Star (voice): Kyôko Tongu, Saeko Shimazu, Katsuji Mori, Chikao Ôtsuka