"Video sleeve not relevant to movie inside"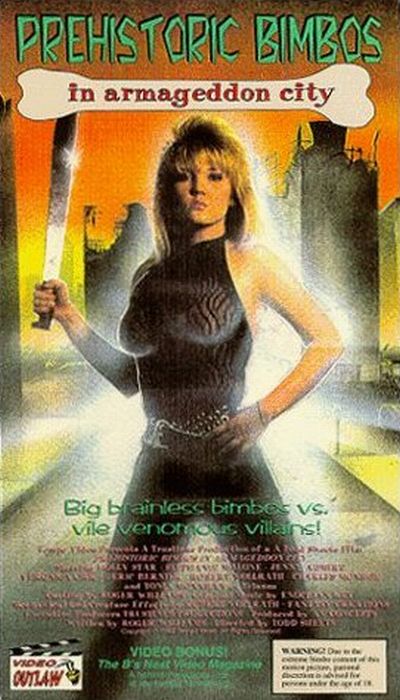 It's hard to be critical of a film for being cheap, when the movie is not only aware of its own cheapness, but wears this on its sleeve like a badge of honour. "So what if I'm made entirely by amateurs with their pocket-money," it seems to be saying. "We didn't care, so why the hell should you?" I could list all the flaws here – crappy sound, low-quality video, acting your local amateur dramatic group would reject, awful use of stock classical music that would make Gustav Holst spin in his grave – but its response would simply be "…and your point is?" In the interests of space, let's largely take those aspects as thoroughly read, and get on with the rest of our review. The setting is Chicago, and far from Armageddon having hit, it looks pretty much like the city we know – trains run in the background, for example. There is some introductory guff, which is hardly convincing, and nor is there anything particular "Prehistoric" about the leading ladies here, beyond a bit of fur trim.
You'd certainly be forgiven if confusion set in through a first ten minutes that can only be described as incoherent. There is a pretty good reason for this, however, in that it's actually a quick rehash of Sheets' previous film, Bimbos B.C., which leads into the story here. It's relevant, as the predecessor was (apparently) mostly concerned with the search through Armageddon City by our heroines for an antidote so one of their number can be cured after being nibbled by one of the local monsters. This brought them into conflict with Salacious Thatch (Bernier), whom they defeated and apparently killed. Whoa, not quite so fast, ladies. He actually survived, being outfitted with a cyborg arm by Nemesis (Vollrath), and kidnaps the bimbos from a foraging mission under temporary leader, Gabrielle (Starr), enslaving them in his mine [Quite what they are digging for in Chicago, I'm not sure. Deep-pan pizza, possibly] But there's trouble up above, as Thatch is seeking a return to power, now held by Nemesis…
As noted above, it's practically critic-proof in many aspects, because it just doesn't care. I will note my disappointment that during the second half in particular, it focuses far more on Thatch + Nemesis than our heroines. In particular, there's a long chase which starts out in cars, downgrades to pedal bikes, and ends up on skateboards. It's not as amusing as Sheets thinks. But I have to say, the "home made" robots are quite lovely, truly evoking the B-movie spirit apparently being aimed for. Without a strong tolerance for micro-budget cinema, this is quite probably unwatchable. Even with such, this feels like it overstays its welcome, even at less than 70 minutes.
Dir: Todd Sheets
Star: Holly Starr, Robert Vollrath, Deric Bernier, Veronica Orr