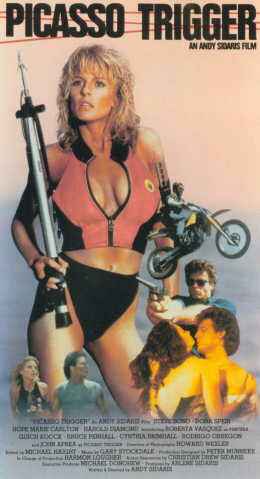 Salazar (Aprea) is a famously devious assassin who gets shot by a sniper just after he donates a painting (of the emblematic 'Picasso triggerfish') to a Parisian art gallery. This sparks a series of lethal attacks on undercover federal spy teams who are Salazar's enemies. But are the various bad-guys, who use all manner of tricks to eliminate government agents, all working for a criminal mastermind?
Sidaris makes amusing action films by casting Playboy pinups and hunky TV actors, and crafts low-budget Bond style thrills in exotic locations. There's not much point in expecting greatness from these stereotyped heroes and villains, as the quintessential Sidaris formula simply requires some beautiful women to strip at regular intervals, a number of offbeat stunts and violent explosions, occasional bouts of kung fu, and frequent travel scenes in small planes, flashy boats and fast cars. On these terms, Picasso Trigger is a splendidly uncomplicated production showcasing several enjoyably ridiculous gadgets: a boomerang grenade, a radio-controlled toy car bomb, and a missile launcher disguised as a crutch!
If what you want is a speedboat chase in which the hero cannot shoot straight, lots of busty babes in bikinis (or less) carrying enough weaponry to fight a small war, crooks guilty of everything from drug-smuggling to snuff movies and white slavery, and a scattering of throwaway one-liners, Picasso Trigger fits the bill, perfectly.
Jeff Young
Originally published in Video Vista
www.videovista.net
Dir: Andy Sidaris
Star: Dona Speir, Hope Marie Carlton, Steve Bond, John Aprea