"Future imperfect."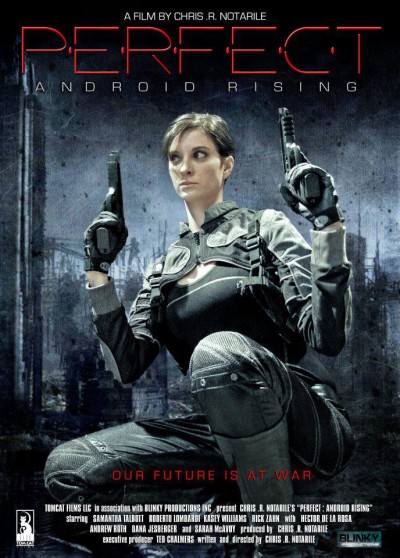 Feeling mostly like a fan-film located somewhere between the universes of Robocop and Terminator, this starts with a military project to create a soldier-android, which goes wrong and ends with the creation killing the wife of its creator, Dr. Peter Hess (Lombardi): it's then abducted from a storage facility, and vanishes. Fast-forward a few years, and Hess tries again, this time creating Lia (Talbott), in the image of his wife: the military, led by General Arken (Zahn)  remain interested, because America has collapsed into internal strife and civil war, with group of rebels taking on the larger forces of the government. As a test, Lia is sent out to exterminate one of their nests, but with the help of an EMP gun, the rebels' leader, Kass (Williams) captures the attacker. Can she be re-programmed from a mindless killing machine into something bearing a closer resemblance to a human? And what will Lia do if Kass succeeds?
Having enjoyed Notarile's previous GWG film, Stand Off, this one was somewhat disappointing. The sci-fi oriented theme attempted here requires a little more in the way of production values, than the urban crime one of Stand Off, even if it's simply to give the impression Lia is stronger, faster or more powerful than a human. That doesn't happen, and she simply appears bulletproof, so you wonder why they bother. The other main problem is the dialogue. You know how some films sound like people speaking, and in others, it sound like characters saying lines from a script? This definitely falls in the latter department, with too many lines that seem necessary to the plot, rather than flowing naturally from the situation. The re-wiring of Lia is also way too easy: this is supposed to be bleeding-edge military technology, unseen in the civilian world, but I've installed browser plugins with more difficulty. Delete one file, tell her, "Hey, you shouldn't be killing us," and she goes, "Well, I'm convinced", then changes sides. And the Genesis subplot is abandoned entirely in the middle, before showing up again at the very end, for no apparent reason beyond foreshadowing a sequel.
This isn't to say it's totally without merits. Talbott is rather better as Lia than as Mrs. Hess, capturing the emotionless android well, and the lack of wire-fu or other artificially-enhanced action sometimes does work for the movie. Notarile captures the blasted post-industrial landscape well, getting good bang for his (relatively few) bucks. But unlike Stand Off, this never escapes its low-budget origins. If you're into fan films, this is respectable enough, and I remain interested in see further work from his Blinky Productions studio – Assassinista looks particularly interesting. However, you need to set your expectations appropriately, and if you're looking for something reaching the level of a fully-professional feature, you're going to be disappointed.
Dir: Chris R. Notarile
Star: Roberto Lombardi, Samantha Talbott, Kasey Williams, Rick Zahn