"The two greatest pleasures in life are fucking and killing."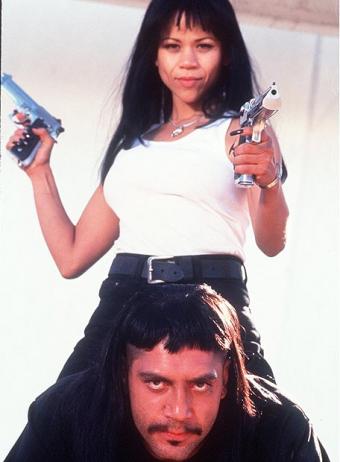 Despite flaws, this merits your attention simply because of the title character, even if describing her as a "heroine" would necessitate a wholesale redefinition of the term – the quote above is entirely typical of her attitude. When she teams up with bank-robber Romeo Dolorosa to traffic a truckload of foetuses to Las Vegas (as you do…), it's like putting a lit match to fuel. You just know there's trouble ahead.
Romeo is into Santeria, and Perdita convinces him to perform a human sacrifice; to this end, they kidnap a slumming young WASP couple (Cross and Graham – and yes, it is Heather's sister, though notably less well-endowed), and the film goes into nightmare mode. You get the horrible feeling that absolutely anything could happen, and de la Iglesia shows that he has no problems pouring on both sex and violence. [I should mention at this point that you should track down the German DVD, which is the only uncut version currently available, AFAIK] It's difficult viewing – and Rosie Perez always seemed so nice. You certainly won't sustain that view afterwards.
The film does run out of steam when this extremely menacing section is completed, and ends up petering out somewhat, as the focus moves off the couple and more onto Romeo – Perdita is pushed into the sidelights, and she deserves a much better fate. If there's also a sense of deja vu, it's because the story comes from the same writer as Wild at Heart, and both depict a twisted love-story/chase. Despite this, there's enough perverted nastiness here to satisfy the most jaded palate.
Dir: Alex de la Iglesia
Star: Rosie Perez, Javier Bardem, Harley Cross, Aimee Graham