"On Her Mexico's Secret Service."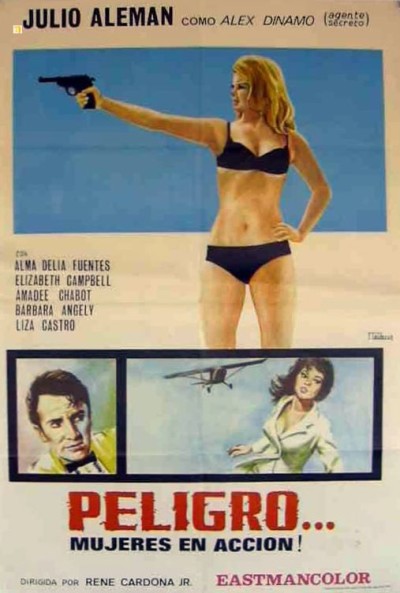 In the sixties, it seemed the world was awash in 007-inspired romps, with immaculate-dressed, heroic secret agents from every nation punching, shooting and sleeping their way through friends and enemies, with a quip and a raised eyebrow. One such Bond-wannabe was Alex Dinamo (Alemán), star of two Mexican movies, 1967's SOS Conspiracion Bikini, and this sequel, made the following year, whose title translates as Danger! Women in Action. Which is where we come in. For despite stemming from a time and place not exactly noted as a bastion of advanced sexual liberation, it manages to be a damn sight more equal-opportunity than any Bond film of its time, or even since. For not only is the chief villain a woman – territory at yet still unexplored by 007 – Dinamo's is given a sidekick, Maura (Alava), who is equally as competent, and he is happy to use the skill-sets of a number of other women on the battlefield here, without too much in the way of sexist one-liners.
As in its predecessor, the story sees Alex take on shadowy evil organization S.O.S, the Secret Organizational Service, who intend to carry out various terrorist acts in Central and South America, and exploit the resulting chaos. Initially, the target is a refinery in Ecuador, whose destruction will paralyze the country, and it's only with the timely delivery of information from Barbara (Angely), that the location where the S.O.S. commandos will come ashore is discovered: it's up to Alex, Maura and Barbara to hold them off in an extended (and quite well-staged) fire-fight. With that dastardly plot foiled, S.O.S's evil overlady, Solva (Campbell) moves on to a plan to poison the water supply in Puerto Rico with a biological weapon. It's up to Alex and Maura, this time with the help of an agent working undercover in S.O.S, to foil that plan, by launching an assault on the facility producing the bioweapon. Yeah, there might be some shooting here too. And explosion. Plenty of explosions.
Frankly, it's strikingly progressive how gender is mainly a non-issue here, though Alex clearly has an eye for the ladies, whose costumes are designed to reveal as much as conceal. In particular, for a terrorist group, S.O.S. appear to be firm believers in affirmative action, with its top tier mostly consisting of women, all the way up to Solva. Similarly, Alex treats Maura, Barbara, etc. as competent individuals in their own right. The main problem is the stuff around the fringes, which is not as exciting as the makers seem to think. For example, there is a sequence of Barbara scuba-diving which seems to go on for ever; while I'm sure that kind of thing was novel and worth touting in the sixties (Thunderball, made a couple of years previously, had exactly the same problem, as I recall), it has not aged well at all. The film is also generally inordinately proud of production values which are no more than workmanlike. On the other hand – literally – you have stuff such as an S.O.S. operative with a gold artificial limb, whom we first see casually sharpening its edge on a whetstone. That's still pretty cool, and as knockoffs go, this is better than most.
Dir: René Cardona Jr.
Star: Julio Alemán, Priscilla Alava, Elizabeth Campbell, Barbara Angely