"Women on the Verge of an Armed Robbery."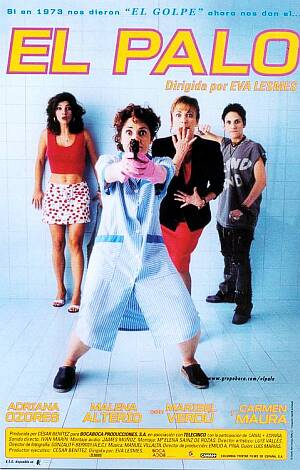 Four unlikely women team up, for their own but unselfish reasons, in order to rob the bank where one (Ozores) works as a cleaning lady. There's also a rich bankrupt, out to fund her daughter's wedding; a slutty hairdresser who's just found out she's pregnant; and an antisocial punk orphan, who wants to be reunited with her father in Argentina. What makes this Spanish film work, is less the action, and more the characters – or at least, the women, since the men never become more than two-dimensional. The script is brisk and efficient, moving things along with swift abandon, and sucks the viewer in to a connection with the ladies, their problems, and the solution.
Of course, this being a heist film, spanners get thrown in the works at random, derailing their non-violent way to liberate the cash. Add in to the mix, that the cleaner ex-husband is a cop, and their young son has picked up on Mommie's plan, and the potential for disaster is clear. Interestingly, however, the film may not quite end up where you think, and director Lesmes deserves credit for avoiding the most obvious cliches or, at least, presenting them with enough spin as to keep them entertaining. The four lead actresses are all excellent – if you've seen many Almodovar films, you'll recognise Maura as the rich lady. Just on top is Alterio, playing punk Pecholata (which translates as 'Thimbletits'!), who combines strength and vulnerability in a way that's a good summary of the whole movie.
Dir: Eva Lesmes
Star: Adriana Ozores, Carmen Maura, Maribel Verdú, Malena Alteiro