"Starring the two and only Jane Russell."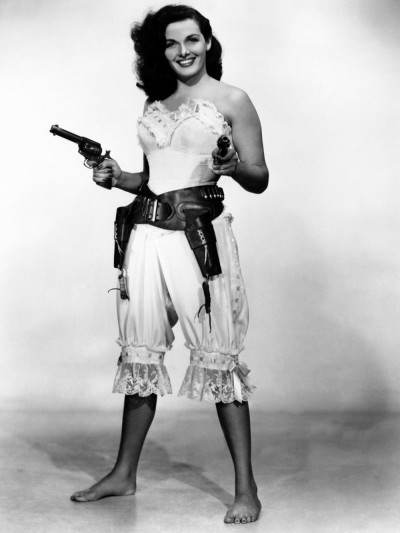 Or, to steal another line from Mr. Hope, "Culture is the ability to describe Jane Russell without moving your hands". It's surprisingly advanced for its 1948 era, with Russell playing Calamity Jane, who is busted out of prison to go undercover and infiltrate an arms ring guilty of the heinous crime of selling weapons to Indians. [Because, from a liberal 2015 perspective, god forbid anyone try to even the playing field on that particular genocide…] She's set up with a cover husband, but when he turns up dead, she's forced to improvise and settles on 'Painless' Peter Potter (Hope), an itinerant dentist, as the patsy for the role, as they join a wagon train heading West. Needless to say, he's delighted, and the legend of his own mind only grows after he fends off an attack by Indians – unaware, all the sharpshooting was entirely Jane's doing. For her aim is to set him up as some kind of heroic Federal agent, provoking the gang into tipping their hand with retaliation.
It's impressively even in tone, with Jane clearly the smarter, braver and more talented one of the pairing, running rings around Peter as she manipulates him into being the unwitting stalking horse for her mission. It's only right at the end, when they both have (somewhat inexplicably) been captured by the Indians, that he rises above his humble origins and skills, doing his part in a rousing finale involving some brisk horse stunts. Russell's performance was the subject of some mockery, Life magazine saying at the time, in a feature called Jane Russell's Gamut of Emotions, "she demonstrates how to express a great variety of emotions, without twitching a facial muscle." However, I think it has perhaps stood the test of time better than Hope's comic mugging, playing into the cold and calculating killing machine trope – she would rather whack Potter into unconsciousness than kiss him. Certainly, it has lasted better than Bob's rendition of Buttons & Bows, which inexplicably won the Academy Award that year for best original song.
To be honest, the comedic aspects also seem rather out of keeping with the body count, though it's hard to tell how much of this may be parody of the genre – certainly, the site of Potter standing beside a literal pile of native American corpses is more likely to provoke embarrassed silence these days, than mirthful chuckles. The film is on much less questionable grounds concentrating on the nicely reversed dynamic between the two leads; even if this collapses into the obligatory and entirely expected fluffy ending, the final sight gag did actually make me laugh out loud, and that's not easy to do.
Dir: Norman Z. McLeod
Star: Bob Hope, Jane Russell, Robert Armstrong, Iris Adrian