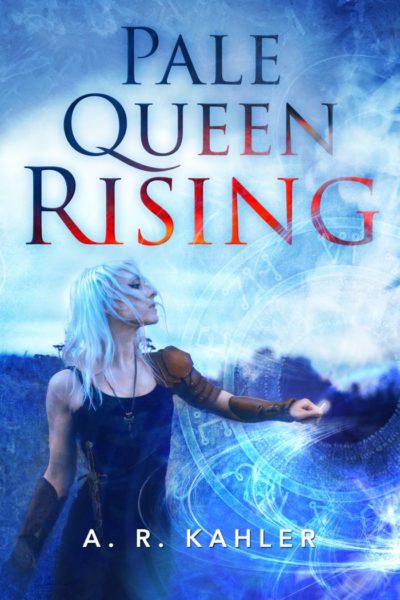 Claire is the official "court assassin" to Mab, who is the Winter Faerie Queen. Her realm lies in a world parallel to ours, but separate from it, and inhabited by a slew of creatures we humans know only from myth, who can travel back and forth to the mortal world. Mab traffics in "Dream", which is somewhere between a food, a drug and currency for her citizens, and the product of human emotions, particularly in group settings such as concerts or other shows. However, someone is muscling in on her turf, with the intent of controlling the Dream, and she unleashes Claire to track down the culprit, who turns out to be the 'Pale Queen' of the title.
Claire is actually human: she was taken as a child, replaced by a changeling, and brought up by Mab in a palace of ice, not even knowing her real last name. But she's more used to tasks that require blunt application of force, and is increasingly troubled as her investigation brings her past back out of the shadows – in particular, the apparent involvement of her biological mother with the Immortal Circus, which seems to serve as a front for the illicit trade. There's also Roxie, a mortal singer who has signed a contract giving her the fame she seeks, in exchange for being a conduit through which Dream can be harvested – and to whose allure Claire is not immune.
Takes a little bit for the situation here to become clear. It wasn't until a good way in that I figured out the details of what "Dream" was; since this is kinda important to the plot, it should likely have been laid out from the get-go. For an assassin, it has to be said, Claire really doesn't do much assassin-ing in this volume and that, too, needed to be more effectively established. Anyone can proclaiming themselves an assassin. She does have some moderately bad-ass magical skills, and solid hand-to-hand combat talents, and she needs both of these, as well as help from her own allies, when going up against the Pale Queen's minions, who have abilities of their own. More likely needed, however.
The heroine has a nicely sarcastic approach to life that is endearing, and Kahler has crafted a world with plenty of potential. However, it feels like a lot of that potential was left dangling. For instance, early on, Claire says, "Monsters can come from anywhere with a flat surface." At least in this book, that intriguing premise is left unexplored. Most of the time, too, Claire is apparently meandering round in the human world, only popping back occasionally to the, likely more interesting, faerie realm. It may be the case that this works better if you've read the author's previous series, which focuses on the Immortal Circus. As a standalone, however, this is no more than alright, and ends in the unsatisfactory "buy the second volume" way, which I'm increasingly discovering appears to be a thing with e-books.
Author: A.R. Kahler
Publisher: 47North, available through Amazon, both as an e-book and in a printed edition.