"GI Molly"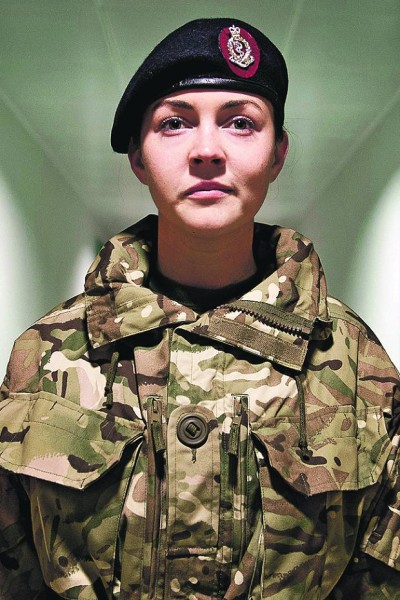 Molly Dawes (Turner) has just turned 18, works in a nail-salon, lives on a council estate with her five siblings, pregnant mom and unemployable father, and has a Muslim boyfriend who is cheating on her. Oh, she looks kinda like a chav version of Daenerys Targaryen too, but given her unsurprising lack of dragons, has no apparent future. Throwing up at the end of a night out with her gal pals, she finds herself in front of an Army recruitment office, and decides it offers a potential way out from her dead-end life. Naturally, it's not quite as easy as that, since her boyfriend is unimpressed, and her parents think the big announcement is that she's pregnant. But she persists, and the film follows her journey through basic training, as the mouthy peroxide blonde turns into a combat medical technician.
Yes, it's a fair criticism that this is heavily pro-Army, occasionally feeling like a recruitment video more than a movie. But it doesn't soft-pedal the dangers at all. Indeed, a constant thread in the second half is Molly's reluctance to write the "letter from the grave" required for all recruits, to be sent home in the event of their death, and perhaps the film's most poignant moment has a ceremony at a war memorial, with a veteran reading John McCrae's poem, In Flanders Fields. But the film's biggest strength is undeniably Turner, an escapee from long-running British soap EastEnders. She captures perfectly the multi-faceted character of Molly, who wants more out of life, but has no apparent way to get it. In that aspect, this reminded me somewhat of Dangerous Lady, and I could see the heroine here ending up slipping into crime to escape her situation – and doing just as well. But Molly lacks self-confidence – describing herself as stupid even when that clearly isn't the case – and that, along with the opportunity, is what the military provides.
There's an interesting subplot where Molly talks about basic training with another recruit, who compares the Army to a cult, designed to break an individual down so they can build you back up the way they want. He means it disparagingly – and later is tossed out, as "unfit for Army service", apparently not having fooled anyone. But the film seems to be making the case that this is not necessarily a bad thing, because the end product, particularly in this case, appears to be a much more productive member of society than the one who enlisted in the cult. Even if it's also someone who is now estranged from her pals, her boyfriend  and some of her family as a result. Thought-provoking and engaging, this was turned into a five-part series, that I think I may now have to track down.
Dir: David Drury
Star: Lacey Turner, Flossy Grounds, Daniel Black