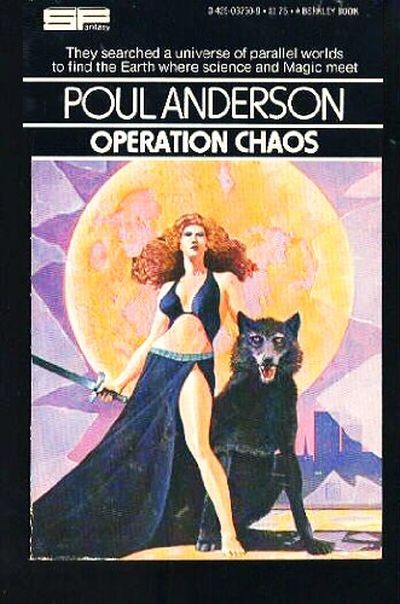 Poul Anderson (d. 2001) was one of the leading lights of speculative fiction in the latter half of the 20th century. He's perhaps best known for his science fiction; but this excellent novel is a sample of his fantasy.
We're in an alternate mid-20th-century U.S. here, in a world where magic, though dormant since the Bronze Age, somehow reasserted itself around the turn of the 20th century, and became the major force (rather than technology –although here technology adapts to and works with it) that revolutionized modern society, industry and daily life. (For instance, rather than using cars, people travel by broomstick or magic carpet.) The magical system is normally incantational, manipulating impersonal and morally neutral paranatural forces in the world (but the villains may also invoke demonic powers). It's also a world where science has demonstrated and accepted the reality of Deity, the afterlife, atonement, moral law, and the angelic and the demonic, without establishing (or denying) the truth of any particular theistic creed. That represents our hero/heroine's take on the spiritual (and apparently Anderson's as well) –and it's a theme taken seriously here.
Steve and Ginny, the aforementioned H/h, are, respectively, a werewolf (Anderson's werewolves, like Anthony Boucher's, are simply people who can shapeshift into wolves –that doesn't make them vicious or madly homicidal) and a white witch. When we first meet them, they're Army officers serving in World War II –but in this reality, the Allies' main adversary is a restored, brutal Islamic Caliphate (considered heretical by some other Muslims) that's out to conquer the world and impose its version of theocracy. (This book was published in 1971; it's interesting to see how subsequent history has developed in the Middle East, with ISIS, etc.) And of course this is a war in which magic is the principal weapon employed by both sides. At the book's outset, our co-protagonists are tasked with a probably suicidal mission that's vital to the war effort, and from there the action and the jeopardies continue thick and fast. But their real battle is much bigger than the war, and the real Adversary isn't the Caliphate. Who is he? Well… he's our Adversary, too.
Steve serves as our narrator; Anderson uses the conceit that he's in a trance state, communicating across the ether between alternate realities to share the benefit of his experiences with any receptive inhabitants, who share a common cosmic struggle and destiny. IMO, that device works well. The author's prose style is conversational, but erudite, with a rich substratum of dry, dead-pan humor in the way things are phrased and the matter-of-fact acceptance of how magic permeates daily life. But this is also a serious book, with lethal violence and life-and-death (or worse) danger, defining moral choices, real psychological depth in places, and underlying spiritual and social messages that are as serious as a heart attack. Anderson's solid knowledge of worldwide mythology and occult lore enriches the tale, as does his accurate understanding of Gnosticism and its significance. Steve and Ginny are characters readers can readily like, admire and root for. Bad language here is limited to an occasional h- or d-word, and there's no inappropriate sexual content.
Ginny is a strong, capable woman with a cool head in a crisis, iron nerves and will, quick reflexes and an ability to handle physical challenges thrown at her by demons and elementals. She acquits herself well in combat situations; though she's mostly up against non-human foes. During the war, though, she proved herself a lethal fighter against enemy soldiers as well (although we don't actually get to see her most deadly exploit directly –Steve just finds the bodies after the fact!).
All in all, I found this a great read, from a master writer at the top of his game. My wife greatly liked the book, too, as well as another of the author's novels we've read together years ago, The High Crusade. The main female character there, Lady Catherine, isn't really an action heroine as such for most of the book –but when the chips are down, she can come through, and that book can also appeal to fans of strong heroines.
Author: Poul Anderson
Publisher: Baen Books, available through Amazon, both for Kindle and as a printed book.
A version of this review previously appeared on Goodreads.