Literary rating:
Kick-butt quotient: Depends on how you define it…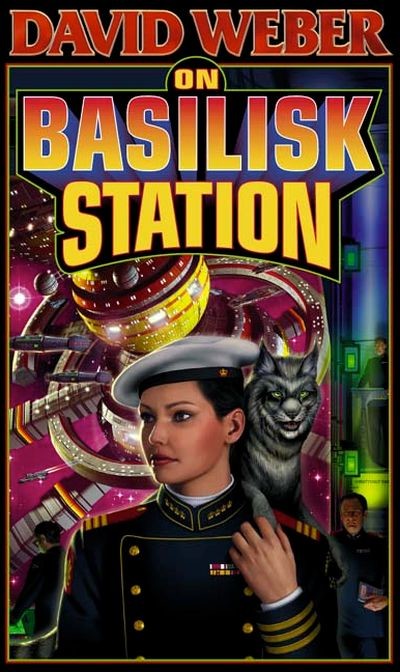 This series opener is one that was been on my radar for a long time, so I was delighted to finally read it last year! Although I'm a science fiction fan, I'm not generally attracted to military SF, which of course this is. But that's mostly because my impression is that much of that sub-genre concentrates heavily on futuristic military hardware, to the neglect of the human element (and I think the human element is what good literature is all about). But that's not a problem here. To be sure, there's futuristic military hardware, and techno-babble (see below). But the human element, and a rousing tale of human adventure, is the core of the book.
Ever since junior high school, I've appreciated historical fiction about the British Navy in the age of sail; I like the ambiance, the ethos, and the action of the storylines. Weber's a kindred spirit in this respect, and particularly a fan of C. S. Forester (to whom he dedicates this novel). The latter's Horatio Hornblower series provides the inspiration for Weber's series, and the identity of the initials of the respective protagonists is no coincidence. This has led some Hornblower fans to cry "Foul!" and "Rip-off!" I'm not joining in those cries, however. Yes, Weber has definitely brought something of the flavor of the earlier novels, set in the life of an ocean-going navy in the Napoleonic Wars, to this tale of a space-faring navy in the far future. Honor's Manticore is a kingdom with an aristocracy and a political system reminiscent of Regency England (the author actually provides a plausible historical explanation for this!), while its rival, Haven, has affinities to revolutionary France. And Honor has heroic qualities in common with Hornblower, as well as her initials. But that's where the parallels end. She's her own person, not a Hornblower clone, and I did not see the plot as duplicating anything from the earlier series; it's original. (Granted, I've only read one Hornblower novel.) What we have here, IMO, is an SF homage to Forester's canon, not a plagiarized rip-off.
Of course, it's an updated homage, most noticeably in that the all-male world of Hornblower's navy has finally met the world of women's liberation. Not only do we have a female protagonist; women in Manticore (which currently happens to have a ruling Queen) enjoy full role equality with men, can occupy positions of power, and serve in the space navy on an equal footing with males. Being an (equalitarian) feminist myself, that's music to my ears! Moreover, I'm a long-standing admirer of strong, take-charge, combat-capable heroines, and that definitely describes Honor. She's got the smarts, guts, determination and decisiveness to captain a warship; but more than that, she's a person of integrity, ethics, loyalty, and moral courage. (Honor isn't just her name; it's a quality that defines her.) No, she's not perfect (she's got a temper, that she sometimes has to fight to control!); but she's a woman you can respect and admire. Her "kick-butt quotient" above is ambiguous only because she doesn't engage in direct or one-on-one combat here (although she's a strong, solidly-built woman, and back in her naval academy days once defended herself against a would-be rapist, thrashing him soundly). But she does command a starship, with cool-headed resolution and skill, in lethal ship-to-ship combat.
Weber's supporting cast is life-like as well. His plotting is good, carefully developed and well-paced, with real suspense that rises to nail-biting intensity at the climax. Likewise, his world-building is capable and vivid. Spot-on political commentary with real contemporary relevance is embedded naturally in the storyline; and in the tradition of heroic action adventure, the moral message here is one that's supportive of virtue, duty, patriotism, and loyalty.
That's not to say it's an unflawed debut. As other reviewers have noted, Weber's partial to the info-dump technique. There are a couple of long ones here. The first one explains Manticore's political system, and at least has the merit of being interesting in its own right. The second attempts to explain the mechanics of FTL space travel and hyper-space currents, as they work in the author's imaginary view of the galaxy, in such a way as to provide a veneer of hard science. How valid any of this is (even by the standards of modern quantum theory, which I don't understand or necessarily even fully accept!) I don't know, and don't care; and the excursion through it left me slightly glassy-eyed. I don't have to have a solid basis in known science for my SF, so I'd have been happy with much less explanation –just a basic indication of what the spaceships can or can't do. (If he wanted to include all this techno-babble, IMO, Weber would have been better off to put it in an appendix, as he does with his extensive discussion of Manticorean chronology –though my copy is missing a page of this. I didn't miss it!)
There's also a significant amount of profanity and obscenity here (though not from Honor); mostly from villains or military types under severe stress. (Readers who dislike extremely grisly violence should be warned that they'll find some of that here, too!) But despite these factors, this was easily a four-and-a-half star read for me!
Author: David Weber
Publisher: Baen Books, available through Amazon, both for Kindle and as a printed book. But the first two volumes, this and Honor of the Queen, are actually for free from the publisher, in electronic formats.
A version of this review previously appeared on Goodreads.