"Come and have a go, if you think you're hard enough."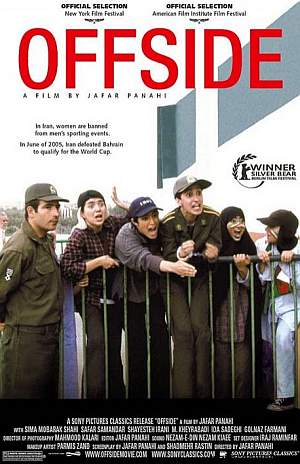 Being an action heroine is a rebellious, possibly revolutionary, act against society: what counts, depends entirely on how your society views women. Going to a soccer game, for example, would not qualify you in the Western world – but as in Ancient Greece, sporting events in Iran are strictly male-only, and a woman who attends one and gets caught, will find herself handed over to the Vice Squad. It redefines requirements somewhat, to say the least. The film tells the story of a number of women, who dress as men to sneak into a crucial 2005 World Cup qualifier between Iran and Bahrain, only to find their disguises imperfect. They're held in an area, just out of sight of the game, by a group of soldiers, who really have better things to do themselves.
There's a beautiful documentary feel; Panahi fooled the authorities into letting him film at the stadium, during the game depicted, by submitting a fake synopsis to authorities (this might have partly led to them refusing permission for the movie to be shown in Iran) and let the outcome determine the end of his film, which may partly explain the somewhat lacklustre ending, feeling in need of a more definitive conclusion. Filmed with non-professional actors, we don't even know the names of the women, but quick, expert strokes, still give them character, from the tomboy to the wallflower to the one who plays football herself; their only connection is a love of the game and their country, which has led them to break the law. Yet the film is also sympathetic to the provincial soldiers, who would rather be watching the game themselves, and despite the radically-different society, the humanity of everyone involved is Panahi's main concern.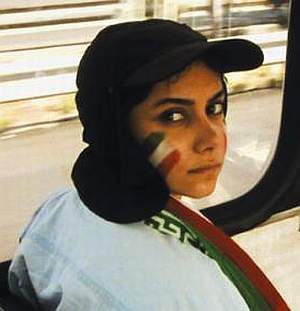 Particularly outstanding is Irani's tomboy, who becomes the de facto leader of the group, and continually hassles the guards. The film has a surprising amount of straight-faced humour, such as her riposte when asked if she's a boy or a girl: "Which do you prefer?" Or one girl's response when told they can't go in because the men will be cursing: "We promise not to listen." Similarly, when another needs to use the bathroom, this poses problems, since naturally there are no women's facilities. The solution involves the impromptu conversion of a poster into a mask, though this hardly resolves things. Obviously, it's not a traditional genre piece, and it's this inaction which stops it from getting a seal. It is, however a fine piece of cinema, regardless of whether you appreciate football or not.
As for why it's here, the director describes the women as having "entered a forbidden space before the law has given them permission to do so. They don't have that permission yet, but they've gone ahead and entered the territory anyway. They've overturned the rules." That's what lifts this film into inclusion on this site: it's about women, refusing to conform to subservient roles enforced on them, and whose behaviour confounds such expectations. Earlier in 2005, seven people were killed in an accident at the same stadium, after a game against Japan: the newspapers only published six photos, and it's rumoured the seventh was a woman who had snuck in to the game. You can certainly argue, but in their own way, those depicted here are 'action heroines' every bit as much as Sarah Connor or Ellen Ripley.
Dir: Jafar Panahi
Star: Shima Mobarak-Shahi, Safar Samandar, Shayesteh Irani, Ayda Sadeqi