"TV Sinners"

Most action-heroine fans will know that this was not the first TV series inspired by Luc Besson's classic GWG film. Between 1997 and 2001, La Femme Nikita ran for four full seasons, plus a shorter fifth one, with Peta Wilson playing Nikita. In early 2010, the CW Network announced it was developing a pilot to try out a new version of the show, and this was picked up for a series in May. The CW seemed a bit of an odd choice: their idea of an action heroine tends more towards shows like Gossip Girl and the 90210 reboot, with a target demographic of 18-34 year-old women. So was this version going to showcase a kinder, gentler Nikita?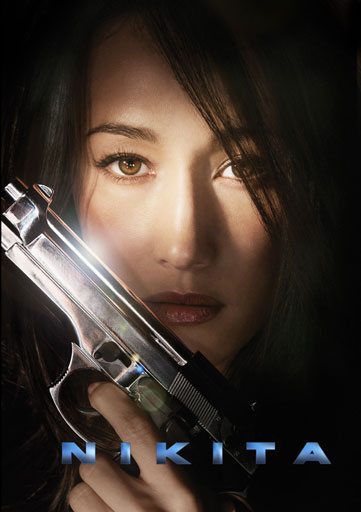 I was reassured by the casting of Maggie Q as the lead, who has a solid action pedigree, both in Hong Kong (Naked Weapon) and the West (Live Free or Die Hard and M-I:3). While its source material was clear, it took a different approach. Instead of telling Nikita's story from the beginning, with her recruitment into a shadowy semi-official organization and training as an assassin, it starts later, after she has mutinied and left them. Now, she is working to bring down the organization known as Division, its leader, Percy (Berkeley), and his right-hand man, Michael (West), who trained Nikita before she went rogue. Her 'secret weapon' is Alex (Fonseca), a new recruit going through training, while acting as Nikita's mole and feeding her information, allowing her to sabotage and obstruct Division's missions.
The results have generally been pretty impressive, probably the closest thing to a true kick-ass heroine on network TV since the demise of Alias [which may have have happened some time before the end of Alias, if you get my drift]. If not quite as dark as the Wilson incarnation, it is certainly satisfactory on this level, with death, torture and treachery lurking in just about every episode. The characters arcs certainly have their twists and turns: the alignment of loyalties at the end of the series is radically different from where they started, with people on both sides crossing over. It's easy for a show like this to get into a rut – Division sets up an operation, Nikita foils it, or whatever – and the generally avoided this pitfall.
In what one suspects was a nod to the target demographic, this was as much about Alex as Nikita, who has her own past to contend with. There is, probably inevitably, the love interest, in the form of a blandly attractive next-door neighbour, who is basically the first man she meets after Alex completes her training and goes into the outside world. There was something similar for Nikita, though this first looked to be heading in one direction, then swerved in another during the second half of the show. That was one of a number of changes made mid-season: it seemed as if the makers needed to fine-tune things on the fly; I was concerned where this might lead, but it didn't hurt the show.
One particular improvement was the appearance of Amanda (Melinda Clarke). Initially Division's psych evaluator, she took a much more prominent role, and the relationship between her and Alex made for an interesting dynamic, not unlike Sidney Bristow/Irina Derevko [hmmm…]. We also enjoyed Berkeley's portrayal of Percy: remembering him as the heroic, if inept George Mason in 24, this was a real change. The final couple of episodes had some epic twists, though I was a bit peeved with the "deaths", which proved not to be terminal. I find it a cheat: as we saw with Buffy, once a character has come back from the grave, death tends to lose its sting, though the execution here was not as clunky or contrived.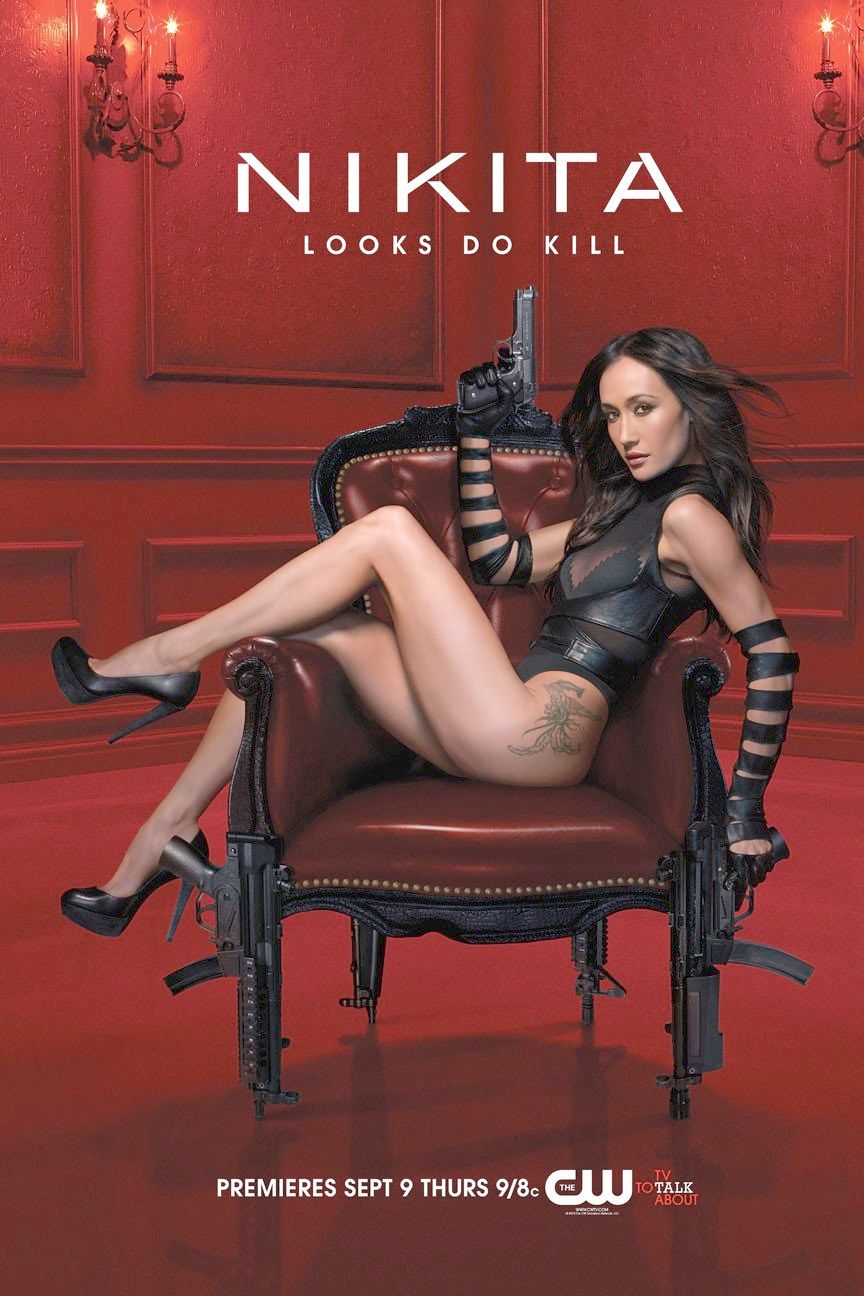 They even crammed in nice nods to the original movie and its TV predecessor too, with a dive down a chute to escape, and a cameo from Alberta Watson, one of La Femme Nikita's actors, as part of the intelligence committee supposedly in charge of Division. By the time the dust has settled, Nikita was driving off into the sunset with a surprising ally, and Alex was also teamed up in a new way, setting things up nicely for the second series. Whether it was going to get one or not seemed in doubt for a while, as the rating did sag mid-season, dropping the show onto the 'bubble'. However, it was announced in May that the CW would pick it up for another series, moving the show to Friday nights to play along with Supernatural.
However, all the plot is perhaps secondary; we want to see ass being kicked. I have largely to agree with Maggie Q, who said, "In terms of action, I don't see our quality of action on any other show right now. I'm sorry. They may have bigger explosions, but our fights are genius." For TV work, it's certainly well above average, and she was apparently instrumental in getting the original co-ordinator fired: "This is my genre, what I've been doing for 14 years. I know it well. There's a level of quality I will not let dip, ever, when it comes to the action… I said, he's gotta go. It's dipping. It hasn't dipped enough in a way that audiences have recognized yet, but it will. I know his style. He's not innovative. He doesn't have what it takes to take the show to the next level. And we're done. We're done here. We need to bring someone else in."
What stands out in particular is how much of her own work Q is doing [and, to a lesser extent, Fonseca]. As she also pointed out how much things have changed: "I remember seeing bad wigs on doubles. Then they cut to a close-up, then there's a wide shot and you know the actress is not doing it. When I fight, you're right there in our faces – very Bourne. You expect that from that calibre [of film], so why wouldn't you expect it on TV?" That's what I think probably impressed me most about the show: at its best, you could stand it beside Salt, and it would not suffer in the comparison. Here's an example:
Yep. I think it's safe to say that the series has delivered copious amounts of high-quality action, combined with mostly interesting characters, and sufficient plot twists to keep us thoroughly entertained. Overall, it ranks among our favourite five shows of the year to date, of any genre, and comfortably leads the pack as far as action heroines go. We're already looking forward eagerly to its return, so we can find out what lies in store for Nikita, Alex and Amanda. Oh, and some of the non-heroines too. I guess. :-)
Star: Maggie Q, Shane West, Lyndsy Fonseca, Xander Berkeley