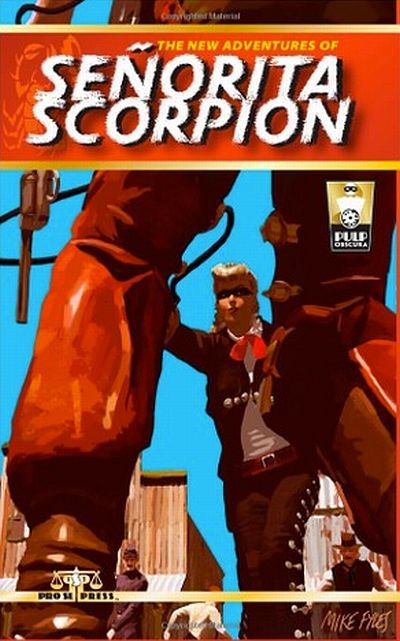 Pulp Western writer Les Savage, Jr. (1922-1958) was short-lived, dying at 35; but he began writing at the age of 17, and managed to produce over 20 books, as well as a substantial body of short fiction. Though he's not well-known today, genre critics who have taken note of his work agree that he was more enlightened in his view of women and of ethnic minorities than most pulp writers (and editors/readers) of his day. An example of his trail-blazing in both areas is his series heroine Elgera Douglas, a.k.a. Senorita Scorpion, who stars in a body of stories set in the mountainous Texas-Mexico border country west of the Pecos River. In 2012, through their Altus Press imprint, modern pulp publisher Pro Se Press have brought all these stories back into print in the two-volume collection The Complete Adventures of Senorita Scorpion. I've already reviewed that collection for this site.
Perhaps to whet interest for the originals, in 2013 Pro Se also brought out this short collection of three modern Senorita Scorpion pastiches, written specifically for this book by three authors who've published other work with Pro Se previously: Nancy A. Hansen, Aussie writer Brad Mengle, and Andrea Judy. I actually read this anthology (which I received as a review copy from Pro Se, with no strings attached) before I read the originals, but chose to wait until I'd reviewed those here before reviewing this spin-off. This was my first exposure to the work of any of these three.
All of the stories, in relation to the original corpus, take place before Savage's second story, "The Brand of Senorita Scorpion." Both Hansen's "The Bells of St. Ferdinand" and "Wanted: Senorita Scorpion" by Mengel are excellent stories, that would earn five stars from me in their own right. They're well plotted and constructed, with capably drawn characters, realistic dialogue and credible motivations, nice evocation of suspense, Western action that's not too over the top to be believable, just the right level of detail, and (in one of the stories) a satisfying note of low-key romance. Each of the two authors has his/her own style; but both portray Elgera and her situation in a way that's basically consistent with the original stories, as a good pastiche should be –though Elgera's skill with using a whip as a weapon, which Hansen depicts, isn't a feature of any of the original stories. (Chisos Owens, who in the originals sometimes threatens to eclipse Elgera, is mentioned here but doesn't actually appear in person.) Both writers avoid use of bad language, with which Savage himself was restrained as well. Elgera comes across in these stories as the sort of "outlaw" the law-abiding can respect and admire: brave, caring, and sparing with lethal force.
Though having only three stories here is regrettable, it's also understandable; Senorita Scorpion isn't as well-known as some other classic pulp characters, so not many modern writers were lining up to want to write about her. That makes it doubly disappointing, though, that one of the three, Andrea Judy's "A Woman's Touch," simply comes nowhere near the standard of the other two. It starts with an implausible premise and throws in a couple more, hangs its plot on an improbable coincidence, offers action scenes so over the top they read like parodies (for instance, no real human beings, no matter how athletic they are, jump in and out of a shot-out window when there's a door right next to it!), is predictable from start to finish, and never generates any emotional response except irritation. Worse, the portrayal of Elgera and her situation here is markedly "off," compared to the original stories: there, she's fully in touch with social reality around her, whereas here, she and her dependents are practically totally ignorant of the outside world beyond their mine; here, she's quite blase' about shooting people, (except in the one case where she's obviously foolish not to!), and here she uses "ain't" where in both the other stories she speaks proper English. (Judy is also the only writer of the three that uses bad language –but that fails to make her dialog very lifelike.) I would seriously doubt that this author ever actually read the original stories.)
In my overall rating, I deducted a star for the one weak story, but I still felt the other two were strong enough to merit four stars for the book. I'd read more by both authors; and I'd even try more by Judy. She's apparently the youngest and least experienced writer of the three, and I don't think tried her best here. With more aggressive editing that demanded her best, her tale might have been much better. (Constantine's role as editor here, I'm guessing, was just to compile the stories and to draft the short author bios at the end of the book –not to impose any quality control.)
Editor: Percival Constantine
Publisher: Pro Se Press, available through Amazon, both for Kindle and as a printed book.
A version of this review previously appeared on Goodreads.