"Finally, a 21st-century successor to Fearless Nadia."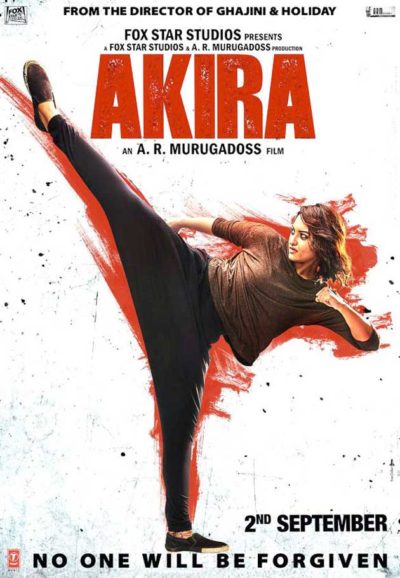 This is the first "true" modern Bollywood action heroine film I've seen, and has to be appreciated as such. While we've covered a couple of Indian films before, these have either been from outside the mainstream e.g. Bandit Queen, or have carefully corralled the action into socially-acceptable avenues, such as sport in Mary Kom. Neither is the case here, though the ending certainly has its share of hypocrisy, with the heroine being more or less sidelined, "for the greater good".
Akira (Sinha) establishes her "take no shit" attitude early, stopping a local bully – unfortunately, his influential family mean she spends three years in juvenile correction while the wheels of justice grind on. After her release, she moves to Mumbai and starts college, only to bump heads with the local mean girl, after refusing to take part in a school protest. Meanwhile, corrupt cop Govind Rane (Kashyap) is tidying up after finding a suitcase full of cash at a car accident – and by that, I mean killing off the driver. However, it kicks off a convoluted series of plot twists, in which evidence of his crimes is used to extort him, then is stolen, and ends up in Akira's possession. Rane will do anything to ensure she won't be able to use it, including framing her as a delusional paranoid and having her committed to an insane asylum, courtesy of a friendly doctor.
That's a slimmed-down synopsis, and there's a lot more going on here; probably too much, to be honest, and I think half an hour less than the actual 137-minute running time would have been a good thing all round. However, it goes with the territory: two hours is close to a minimum for Bollywood. One pleasant surprise was the lack of musical numbers; I've seen these shoehorned into just about every genre, including horror, and sometimes they just don't fit. Here would likely have been one such case, so we were grateful for their absence. Also worth mentioning: this is a remake of a 2011 Tamil film, Mouna Guru, with the sex of its lead character changed.
Sinha is definitely better than expected in the action scenes: the standout sequences are a full-on brawl in the student cafeteria, after she absolutely destroys her tormentor with a potted plant [you can see a fragment in the trailer below; no subs, but if you've read the above, it'll be clear enough], and her escape from the asylum through a series of unfortunate and ill-prepared guards. Again, given the running time, the action is perhaps a little on the infrequent side, yet there's enough going on between times to keep you entertained. Particularly notable among the supporting cart was SP Rabia (Sharma), the honest cop trying to piece together the truth; both heavily pregnant and smartly competent, she reminded me to a large degree of Marge Gunderson from Fargo.
All told, this was surprisingly accessible to our Western eyes, though some cultural aspects had to be taken on trust: for example, acid attacks are, apparently, an everyday thing in Akira's hometown. Bollywood still has some catching up to do; while decent enough, no-one will exactly mistake Sinha for Milla Jovovich or Zoë Bell. However, this is a solid step in the right direction, and will hopefully pave the way for others to follow.
Dir: AR Murugadoss
Star: Sonakshi Sinha, Anurag Kashyap, Konkona Sen Sharma, Ankita Karan Patel