"Serious kung fu, light gags."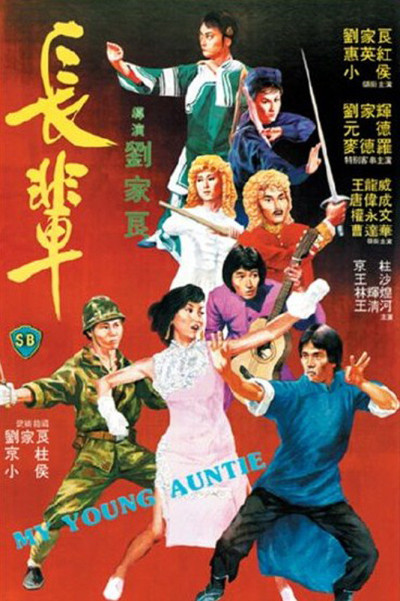 Hui won the Best Actress award at the first ever Hong Kong Film Awards for her role in this 1981 film, in which she plays Cheng Tai-nun, a young martial-arts expert who marries an elderly landowner so that his unscrupulous brother won't be able to take the landowner's assets upon his death. Instead, title passes to Tai-nun, who heads off to Canton to stay with her (much older) nephew, Yu Cheng-chuan (Lau), and his son Yu Tao (Ho), whose hip, young ways clash badly with Tai-nun much more traditionalist views. But the brother plans to steal the dead to what he considers "his" estate, and it's up to Tao and Tai-nun to prevent that – with the help of a roster of elder relatives and Cheng-chuan, who must also be coached in the ways of kung-fu.
There's three-quarters of a very good film here, and Hui is amazing; not someone to whom I'd paid any attention before, she was both lithe and graceful. This isn't limited to her fighting skills. Perhaps the peak of the film is a masked ball which Tai-nun is tricked into attending by Tao, and her lack of dance skills are embarrassingly exposed, in a range of genres from tango to swing. It's brilliant, because you get a real appreciation for the coordination required in making yourself look incredibly uncoordinated. That this turns into a massive and well choreographed sword-fight, with Tai-nun dressed as Marie Antoinette [at a guess] is merely a very pleasant bonus. Director Lau went on to helm Drunken Master II and this has much the same approach, combining comedy and action to good effect; the laughter flows naturally from the characters, rather than (as so often) appearing forced; the caption from the trailer, quoted at the top, gets it about right.
The main problem is a final third which unceremoniously shunts Tai-nun off to one side, with the climax pitting Tao and his older uncles against their thieving relative, as they try to get the property deed back to its rightful owner. If decent enough, there's nothing at all to separate it from a plethora of other films of its kind and type from the era, and you just wish they had given Hui – perhaps with Ho – a final chance to shine, instead of all but eliminating her from the movie that bears her character's name. Still, if you can keep your brain around the blizzard of generational family loyalties (or, alternatively, ignore them completely), you're in for a fun time. If it could fairly be accused of throwing everything but the kitchen sink at the wall, more than enough sticks to justify it, and Hui makes for a striking heroine, whose other films I am clearly going to have to chase down.
Dir: Lau Kar Leung
Star: Kara Hui, Hsiao Ho, Lau Kar Leung, Wang Lung Wei, Gordon Liu