"Mr and Mrs. Lee."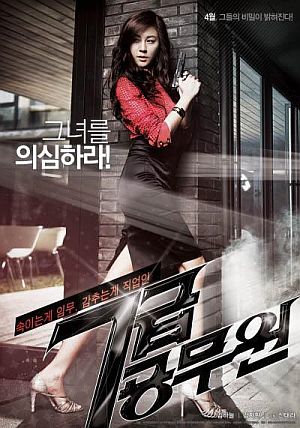 No, seriously. That title was actually used for the movie in Germany, shamelessly evoking the Jolie vehicle. It's understandable, since they do have a lot in common. Secret agent Ahn Su-Ji (Kim) splits up with her boyfriend Jae-Joon (Kang), who is upset over her deceit, not knowing it's in the name of national security. Three years later, they meet up again, and it's clear the spark is still there. However, she doesn't know that he is now an agent for another branch of the Korean intelligence services. Of course, with the amazing luck that only ever happens in action rom-coms like this, they are working on the same case, and closing in on the same plan to detonate a biological weapon in Korea. Their actions each come to the attention of the other's organization who both decide they are dealing with a traitor.
As is often the case with movies that stride across such disparate genres, the results are more inoffensive than memorable. As a romance, comedy or action pic, this is okay: solidly made, with decent production values and occasional moments that do work nicely in the context of their particular genre. For instance, a romantic dinner between the pair does show the depth of their feeling, and a nice sequence at a fair sees Jae-Joon take on his opponent in a pile of artificial guns – and one real one – in what is a good combination of fisticuffs and humour. But the usual rule, "Jack of all trades, master of none," holds true as well, with the movie never diverging much from the expected and well-trodden path, in plot or characterization.
Kim does have decent presence, and there are a couple of good set-pieces, most notably a rousing finale, where the villainous Russian mob boss turns out to be not quite what he seems (ahem!). The sight of her jet-skiing after the bad guys at the start, in a wedding-dress, is also impressive, reminding me of a similar abuse of matrimonial attire in Queen's High. However, that a costume choice is one of the most memorable moments of the film is probably a fair indication that is no more than a bit of frothy entertainment.
Dir: Shin Tae-Ra
Star: Kim Ha-Neul, Kang Ji-hwan, Jang Yeong-Nam, Ryoo Seung-Ryong