"Carlitos Angels"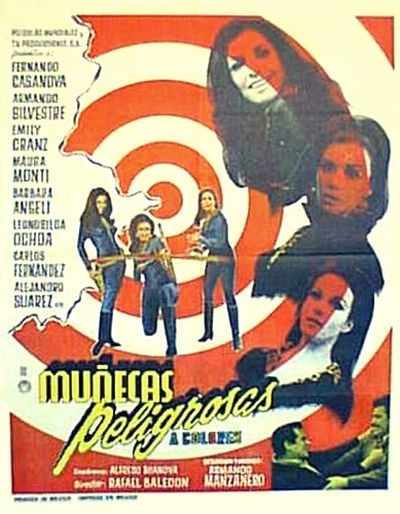 Not far removed from Peligro… Mujeres en acción!, this is actually a sequel to Con Licencia para Matar, which I'm still seeking in a subtitled format. Some day… While nominally starring Fernando Casanova as agent Jim Morrison (maybe The Doors weren't big in Mexico?), this is really about the Tigresses, a freelance group of female bodyguards, with a fetching line in black catsuits. There's leader Emily (Cranz), associates Barbara (Angela) and Diana (Monti) and Tigress in training, Leonor (Ochoa), experts variously with a gun, bow, sword and fists. Jim brings them on board to help protect scientist Professor Livingson, the inventor of a key ingredient in rocket fuel, K-20; he's travelling to Mexico to update its manufacturing plant. That will expose him to Garrick (Armando Silvestre), a villain who wants the secret of K-20 for himself, and it's up to Jim and the ladies to protect the Professor.
Despite the name of the group, the title actually translates as "Dangerous Dolls," and this takes itself a bit less seriously than Peligro – a mixed blessing. There are aspects that are deliciously silly: Garrick's minions all wear uniforms and hats with his logo on it, making it look as if he recruited en masse from a Devo convention. There's also a (likely borderline offensive now) running gag involving an obviously not-Japanese karate instructor, speaking gibberish. However, the storyline doesn't stand up to any scrutiny at all, such as the way Emily just happens to be going out with Garrick's second-in-command. What are the odds? I could also have done without the musical numbers, and describing most of the actresses' action abilities as "a bit crap," would be kind. It's clearly less about what you do, than about how cool you look doing it, except for Leonor, who is there for comic-relief purposes. Fortunately, the martial abilities of Garrick's minions are worse still – near what you would get if you did recruit from a Devo convention.
That all said, I can't claim I disliked this, and it's certainly self-aware, so the flaws don't stop it from being entertaining nonsense. If Garrick's motivation is largely obscure – what, exactly, is he going to do with the catalyst? – he's very well-dressed, and it's nice to see a supervillain with a sense of style to match the good guys. He takes the time to come up with ingenious items like an "organic disintegrating agent" and chivalrously sets a countdown time for four minutes, to allow the Tigresses and Jim time for a final fight-back. Meanwhile, the ladies (outside of Emily) are largely independent-minded, and in no need of male attention or help, quite a laudable feat for 1969 Mexico. I was expecting Jim to bed his way through most of them, and was gratified to see this doesn't happen: it's likely less chauvinist than Bond films of the era. If only they'd put more effort into the action.
Dir: Rafael Baledón
Star: Barbara Angely, Leonorilda Ochoa, Emily Cranz, Maura Monti