"The truth? You can't handle the truth!"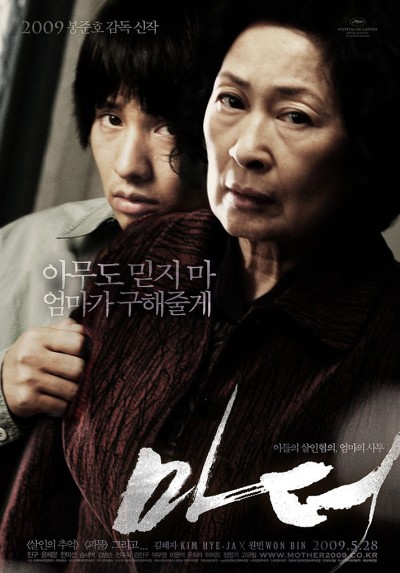 Bong is best known in the West for recent SF film, Snowpiercer, and also for monster movie The Host, but this, which came between those two, is somewhat less of a genre piece. A woman, known only as "Mother" (Kim), lives with her… intellectually-challenged, shall we say, shy son Do-joon (Won) in a small Korean town, making her living as a seller of medicinal herbs and grey-market acupuncturist. When a local schoolgirl is found dead, with one of Do-joon's golf-balls next to her, he's immediately the prime suspect, and the police investigation doesn't bother looking much further. His lawyer is no help, and when the easily-fooled Do-Joon is browbeaten into signing a confession, it appears the case is closed. The only one still convinced of his incident is his Mom, who begins a quest, along with her son's semi-delinquent friend, Jin-Tae (Jin), to find the truth behind the murder.
Be careful what you wish for, could be the moral of the story here, for the results of Mother's investigation might not necessarily be what she wants to find. The film deliberately keeps the question of Do-Joon's guilt or otherwise unresolved, almost until the very end. I suspect any Hollywood version of the same story would not have the guts to walk that tight-rope for as long, and it's that tension between the audience's uncertainty and Mother's absolute, unwavering commitment to, and belief in, her son's innocence, which largely keeps this interesting as things move forward. You desperately want her faith to be justified; I've been in a similar situation, someone I know having been arrested and charged with multiple murders, and denial is an entirely natural reaction. I can only imagine what it's like for a mother, but in this case, her relentless and fearless pursuit of the real killer is what moves the film into our territory.
It's not perfect, with neither the opening nor the end being as strong as the middle section deserves, and the resonance of Kim's history as an actress is largely lost – I wasn't aware she had spent much of her career in Korea playing the motherly type. There are also moments of strange irrelevance, such as when the cops taking Do-Joon away, are involved in a car crash, for absolutely no reason; it's not referred to at any other point in the film, and seems a pointless diversion in a film that's probably overlong, at 129 minutes. However, there's enough meat here, and a very good central performance, to overcome the weaknesses, and make for an interesting and uniquely independent twist on the female detective sub-genre.
Dir: Bong Joon-ho
Star: Kim Hye-ja, Won Bin, Jin Goo, Yoon Je-moon