"Less would be more."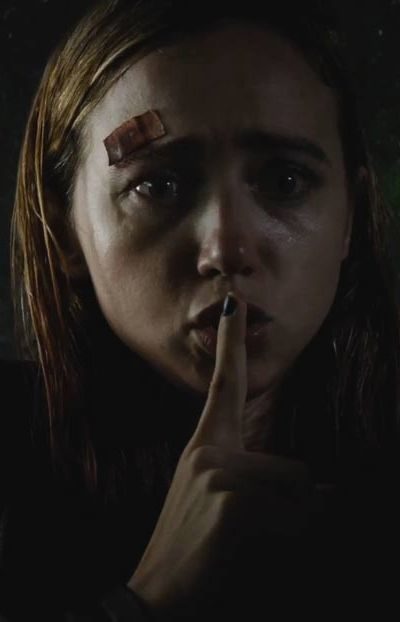 There is a time when a film-maker needs to fall out of love with their script, and approach the resulting movie with a cold, critical eye, analyzing every scene with a single question in mind: Is it essential to the story being told? And if the answer isn't "Yes", then the scene needs to be ruthlessly excised. If you don't, then what results is this film, where a good idea, which could have been lean, mean survival horror at its most stripped-down, becomes instead a cumbersome exercise in social drama.
Single mother Kathy (Kazan) is driving teenage daughter Lizzy (Ballentine) to her father, when they hit a wolf that has run out into the middle of the road on a remote country stretch of highway. While injuries are relatively minor, the car is unable to continue, and they have to hang out and wait for a repair truck to show up. However, when it does, and the mechanic is at work beneath their vehicle, the wolf's corpse vanishes. Lizzy tracks it down in the woods, only to discover it shows signs of having been eaten, leaving her and her mother to wonder: what was bad enough that it could make a wolf run? They're about to meet the answer.
It's all the film needs, and when it concentrates on this, Bertino (who directed above-average home-invasion film, The Strangers) crafts a taut, effective work, as mother and daughter have to put aside their differences in the name of fending off the creature. The problem is the film's insistence on inserting entirely unnecessary flashback scenes. They're unnecessary because the dysfunctional nature of Kathy is established perfectly well before they have even left the house; everything thereafter is superfluous, and had me suppressing an urge to yell, "Enough, already! We get it!" at the screen.
I also get that the creature is intended to be a metaphor – though whether it's intended to represent Kathy's addiction-affected personality or Lizzy's issues with trust and abandonment, is likely open to discussion. Either way, the mother is the monster in this interpretation; but again, it's the kind of thing which works best when left for the audience to figure out or not, offering bonus depth if you want it. Here, Bertino seems to prefer whacking the viewer over the head with his subtext, to the point I had to undergo concussion tests.
On the plus side, Ballentine makes for an engaging young heroine, and the monster was laudably done with practical effects rather than CGI; given the relatively small budget, it looks decent enough. If you liked The Babadook – and I wasn't particularly impressed with that either – then you might look more kindly on this attempt to merge the cerebral and the visceral. Only the latter half worked for me, the former providing more of an annoying distraction than offering any enhancement to the story.
Dir: Bryan Bertino
Star: Zoe Kazan, Ella Ballentine