"Momentum runs out."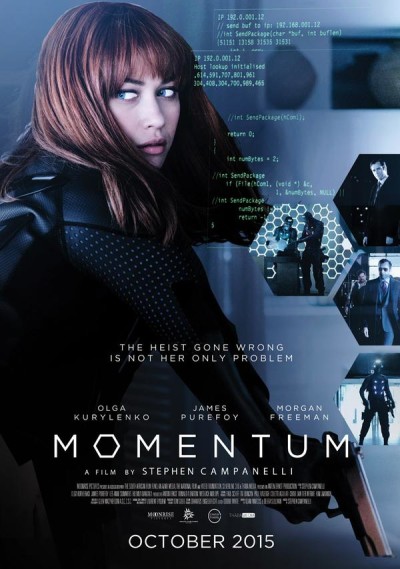 Alex Farraday (Kurylenko) is part of a gang of jewel thieves, who have just pulled off a very successful heist in South Africa. Unfortunately, along with the diamonds, they have also acquired a flash drive which contains the plans of a rogue Senator (Freeman), to stage another 9/11 in order to generate wealth for him and his buddies. Needless to say, he's not happy about it, and sends his minion, Mr. Washington (Purefoy), to retrieve the incriminating hardware and tidy up the loose ends – consisting of Alex and her associates.
That's certainly a terser synopsis than usual, yet it's more than enough, because this is a film that does not care too much for complexities of plot. It is a cinematic shark, in that whenever it stops moving, the audience's interest dies. The good news is, particularly in the first half, that never happens, with Alex being pursued and harried by Washington and his minions [sub-henchmen?] from hotel room to the house of her former boyfriend and not-so-former partner, where a disgruntled wife is most unhappy by Alex's unexpected phone-call, and on from there to an abandoned warehouse. This section is thoroughly entertaining, unfolding at a breathless and non-stop pace, and Kurylenko lives up to the action potential she showed in The Assassin Next Door, surviving on pure adrenaline, as well as her smarts and combat skills – for, it turns out, she has a long, shadowy past of such things.
The problems are much more in the second half, when Campanelli abandons a shamelessly breathless and kinetic approach, replacing it mostly with scenes in which heroine and villain banter awkwardly, while the latter threatens to inflict unspeakable tortures on her. This, needless to say, is rather less interesting and the film dissolves into a disappointing series of expected shenanigans, for which the drive is a MacGuffin. It doesn't help that the whole "Senator" subplot is so woefully under-developed – I believe Freeman took on the role as a favour to the director – they really shouldn't have bothered, instead just leaving both the contents and the shadowy owner unspecified.
I did enjoy Kurylenko, who also handles her action sequences creditably, with occasional upticks into impressive, though just about everyone else in the cast is more or less forgettable, and there isn't enough new in the script to make it worthy of note. Campanelli is a long time cameraman, known in particular for his work with Clint Eastwood, and he apparently had to quit American Sniper to make this, his directorial debut. If the early going shows a great deal of promise, it appears he ran out of steam and ideas thereafter. Rather than building on its solid foundation, this is a film that seems content to stop any ascent there, admire the view for a bit, and coast downhill thereafter without expending significant further effort.
Dir: Stephen Campanelli
Star: Olga Kurylenko, James Purefoy, Morgan Freeman, Jenna Saras