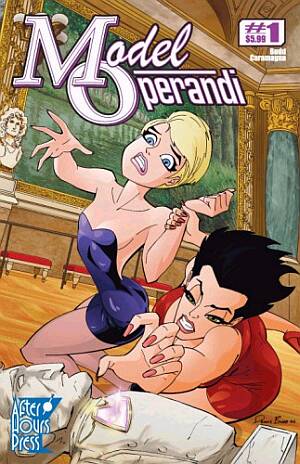 Back in the day, I was a big comics fan, but have largely ignored the medium since coming to America in 2000 [there are still two large, unopened boxes in the hallway closet!] I think it's perhaps the Scot in me coming out: graphic novels are an expensive way to pass an hour or so. Props first, therefore, to Caramagna and Budd, for keeping the cost of their first issue to an extremely reasonable price The story therein centers on the theft in France of a priceless diamond, the Heart of Josephine, and the quest of supermodel Legsy Diamond and Ann Lezbee, the implausibly-bosomed Special Ops Presidential Intern, to retrieve it.
Perhaps the biggest weakness is this storyline tries to cram too much in. As well as the search for the diamond, we also have Legsy's family background, inter-model agency rivalry, her boss's previous intrigues, a relationship with an investigating cop, and so on. While this sets up many potential storylines for future issues, it does feel somewhat heavily laid-on, and I tend to feel that less would be more. They're going for an almost-Alias level of complexity, but twenty-plus hour-long episodes gives you much more scope for exposition than 88 pages, especially in an action-oriented title like this.
That said, the artwork rocks. Bright, crisp, colours mesh perfectly with bold lines, and capture the pop aesthetic delightfully. Every page is the kind of work which deserves to be framed and hung on the wall – though occasionally is perhaps a little too breast-fixated for me to really appreciate it! [I read it in the canteen at work, and felt a little uncomfortable doing so now and again 8-)] Style-wise, I was reminded a bit of the Adam Warren Dirty Pair comics, and that's pretty high praise since I do have a page of art from that hanging on the wall here. I'm certainly looking forward to future editions, and this first issue is something any action heroine fan should check out.
Available now from AHP Comics, 88 pages, $5.99
Words and Ink: Joe Caramagna
Pencils and Colors: Dennis Budd