"Crusoe is not consent"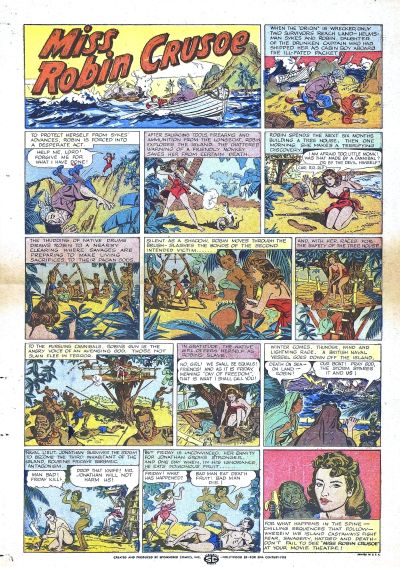 A solid re-telling of the Robinson Crusoe story by Daniel Defoe, it switches things up by turning the hero into a heroine, Robin Crusoe (Blake, best known as saloon owner Kitty Russell from Gunsmoke). Taken to sea by her captain father as a cheap alternative to a cabin-boy, she is the sole survivor of a shipwreck, and stranded on a deserted island [albeit one apparently well-stocked with make-up and hair-care products]. The first half follows the story fairly closely, as she rescues Friday (Hayes) from her captors, and works on a boat with which she hopes to escape the island. But things then diverge, with the washing up of another survivor, Jonathan (Nader). With Robin having been severely soured on men by her previous ship-board experiences, one showing up on her island paradise is the last thing she wants, and she's disinclined to trust the new arrival. But there's another problem: the boat can only hold two people.
It's much more effective before he shows up, with the two women holding their own against the perils and terrors of life with courage. A couple of moments which stand out are Friday gazing at the sleeping Ms. Crusoe (which, along with the former's jealousy toward Jonathan implies an almost Sapphic aspect, decades ahead of the year this came out, 1954). and the spectacular manner in which the natives dispose of their other captive: Eli Roth's Green Inferno will be hard pushed to match the concept. After Jonathan arrives, the film becomes much weaker. Oh, it starts innocently enough, with him popping over to borrow a saw, but you just know that Robin is going to end up falling for him – indeed, rolling around on the beach in a manner clearly inspired by the previous year's From Here to Eternity. But getting there, requires him to push his attentions on her, in a way which would now certainly be considered sexual harassment and, on some campuses, likely assault. That aspect of the movie has not aged well at all.
While chunks of this are severely sound-staged, there are times where filming was clearly done on location, and things are a lot better for it. The score also punches above it's weight, coming from composer Elmer Bernstein, before the first of his 14 Oscar nomination – perhaps thank Senator McCarthy for that, as this was around the period Bernstein was blacklisted from major motion pictures for his "Communist tendencies." On the other hand, the finale ends up being a disappointing combination of macho heroism and deus ex machina that is a good deal less satisfying than the film merits. Still, the overall product is a good deal better than I expected going in, though falls short of the impressive standards set early on.
Dir: Eugene Frenke
Star: Amanda Blake, George Nader, Rosalind Hayes