"Climbing the corporate ladder can be murder."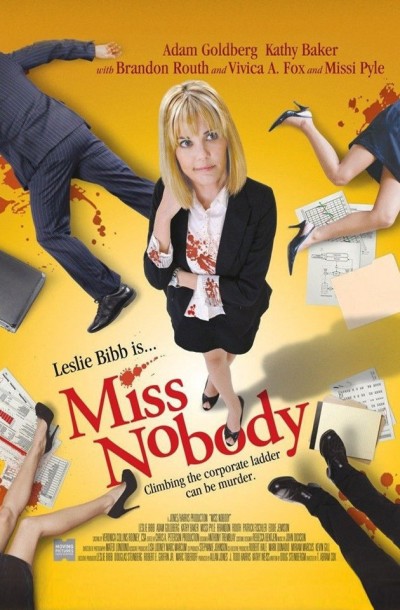 Sarah Jane (Bibb) has been working for years as a unassuming secretary in a pharmaceutical company, and egged on by colleague and best friend Charmaine (Pyle), eventually gets up the courage to apply for an executive position. With some embellishment of her resume, she gets the post, only to have it yanked from under her when a new hotshot arrives. The hotshot makes a pass at her, leading to his accidental death; Sarah Jane has her position restored as a result of this untimely demise, and discovers her late rival had the plans for a wonder-drug with the potential to reverse Alzheimer's. However, she soon realizes that further deaths will be necessary, both to keep her secret, and also continue her rise up the chain of command. Complicating matters, she starts dating one of the policemen (Goldberg) involved in the investigation of the slew of suspicious corporate deaths, by train, photocopier, gas explosion, etc.  Worse yet, someone clearly knows what Sarah Jane has been up to, and starts trying to blackmail her.
The film could have gone a number of different ways in terms of its approach, such as black comedy – Heathers would be the best example of that approach. However, Cox strenuously avoids the darker tone, opting to keep things frothy and light: there's little or no doubt, for example, that Sarah Jane's victims deserve some kind of retribution [although you can certainly argue whether their crimes reach a level where the death penalty is merited]. It does, of course, rely heavily on the stupidity of just about everyone beyond the heroine, the rest of the characters behaving in ways that would only happen in this kind of film. However, the cast are good enough to pull this off, with Bibb endearingly perky in the lead, and getting good support from Pyle (Cleaners), as well as Vivica A. Fox (Kill Bill) as another corporate rival, plus Barry Bostwick as the local Catholic priest, who has some difficulty coming to terms with the heinous crimes to which Sarah Jane confesses.
I was, however, unconvinced by the ease with which she slides from mouse-like secretary into serial-killing predator. Especially given – or, depending on your view of religious zealotry – even allowing for, her devout faith [she prays nightly before a shrine to St. George, a statue of whom played a formative role in her youth], it's a slippery slope down which Sarah Jane less slides, than cheerfully sprints. The bubbly approach also seems awkwardly at odds with the subject matter, though the performances help deflect attention from this while the film is in motion. I'd likely have preferred a sharper edge to the corporate satire; there's no shortage of potential targets there, yet this has about as much edge as a letter-opener, and that limits the impact, turning this into little more than a competently fluffy time-passer.
Dir: T. Abram Cox
Star: Leslie Bibb, Adam Goldberg, Missi Pyle, Kathy Baker