"Hell hath no fury like a blonde scorned."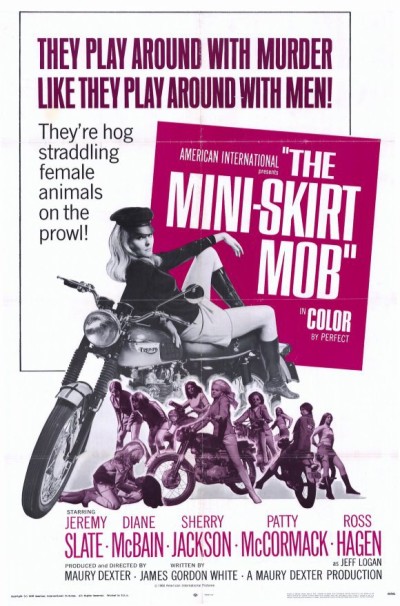 It's not much of a stretch to imagine this coming out of Japan, as an early ancestor of the pinky violence genre. Though that would probably require the additional of significantly more nudity, since it proves surprisingly coy on that front, without a nipple to be found. The central character is Jeff (Hagen), a rodeo star who has just married Connie (Jackson). This does not sit well with his old flame, Shayne (McBain), who heads an all-girl gang, The Mini-skirts. Together with a group of male bikers (who include cult legend, Harry Dean Stanton), they harass the newlyweds, on and off the road, until a tragic accident leads to the death of one of the bikers. Then, the gloves come off, with Jeff and Connie besieged in their caravan by Shayne and her crew. However, they find an unlikely ally in Shayne's sister, Edie (McCormack, who had previously been nominated for an Oscar as the tiny psychopath in The Bad Seed). While she stepped aside from Jeff when Shayne decided she was interested, Shayne is now sniffing around Edie's current man, Lon (Jeremy Slate) and Edie has no interest in stepping aside again.
It's an interesting set of power dynamics here: Shayne is the one who runs things here, manipulating others – Lon in particular – to do her bidding without the slightest qualm. For instance, after Lon has brawled with Jeff to the point where the latter has pulled a rifle on the gang, as far as Lon is concerned, that's the end of the matter. But Shayne casts aspersions on his manhood, basically goading him into further action. She has also the whip-hand in her relationship with Edie, who is initially happy to follow along, clinging to her big sis's coat-tails, until the scales fall from her eyes and she realizes how far Shayne is prepared to go in her quest for vengeance against the man who has – oh, the horror! – found love in the arms of another woman, Or, as Shayne puts it, "You need a real woman, Jeff – not a mouse." Rodents are something of a running theme, it appears: she also tells a touching story of a visit to a zoo with Jeff, where she watched a snake hunt and swallow alive a mouse. Who said romance was dead?
It's Jackson, using so much hair-spray she doesn't need a motorcycle helmet, who keeps this watchable – even when the biking scenes, juvenile delinquent hi-jinks and Budweiser product placement begin to wear thin, and that doesn't take very long. However, the siege of the caravan racks up the tension, and brings an unexpected and quite nasty death, albeit one clearly accomplished through thoroughly unconvincing stunt-doubling. That, and a finale where Connie shows an equally unexpected streak of malice, left me suitably entertained, though it would certainly be a stretch to call this anything more than throw-away drive-in fodder.
Dir: Maury Dexter
Star: Diane McBain, Ross Hagen, Sherry Jackson, Patty McCormack