"Firsts of fury…"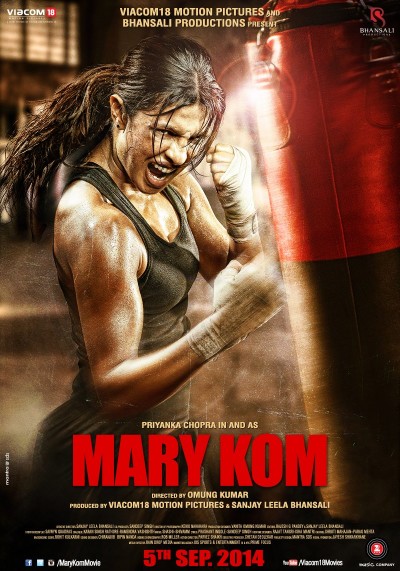 This was far from our first traditionally "Bollywood" film, but was the first such with what could be described as an action heroine. Traditionally, the women in Bollywood films are relegated to love interests for the square-jawed heroes. Not that this necessarily makes for a bad film [far from it, some are enormously entertaining], just that they don't fall within the remit of our coverage here. This one squarely does, although also succumbs to many of the clichés of plucky underdog sports stories, shamelessly manipulating what was already an impressive story, purely to tug on the cinematic heart-strings.
The heroine is Mangte Chungeijang Kom (Chopra), the tomboyish daughter of a poor rice-farmer (Das), whose quick temper has got her into trouble more than once. Her parents try to deflect this energy into sports, but when she stumbles into a gym run by the stern coach Narjit Singh (Thapa), she realizes that's her true calling, and begins training there with the knowledge of her mother, but not her father. When he finds out, he gives Mary an ultimatum: boxing or her family. Guess how that goes. She becomes world champion in her weight class, but then gives up the sport for marriage and to start a family. However, unable to settle down, her husband (Kumaar) convinces Mary to make a comeback, something rarely seen after becoming a mother. She'll face obstacles, not just from her opponents, but also from her own body, the sport's administrators and the distraction of a child's health issues.
Wisely, Kumar avoids the traditional staged musical numbers, instead incorporating the songs which are almost de rigeur for Bollywood, into things such as multiple training montages. Some are more effective than others, and as noted, it does tend to fall into the trap of shallow stereotypes too often. I'm not sure about Chopra, who certainly is nowhere near as well-muscled as the poster would have you believe, and the fights themselves are a bit of a mixed bag. However, Chopra's acting talents are certainly up to the task, and if the final reel is factually dubious, Kumar throws everything but the kitchen sink into its depiction and, much like Mary herself, pulls off an unlikely victory – albeit by a split decision on points. With a central character that's not only a woman, but one from an area of India barely regarded as part of the country, credit is certainly due for pushing the boundaries of popular Indian cinema. It's just a shame there was no such sense of adventure with the well-worn storyline.
Dir: Omung Kumar
Star: Priyanka Chopra, Darshan Kumaar, Sunil Thapa, Robin Das