"Poster not necessarily representative of movie contents."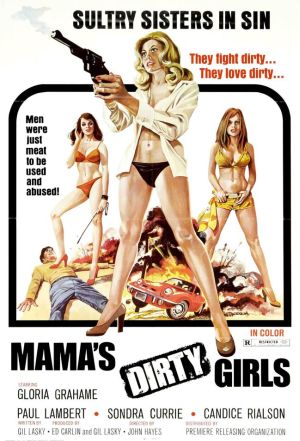 While the title suggests something inspired by Corman's Big Bad Mama, this is a contemporary tale which, in some ways, is actually closer to Faster Pussycat. It has a great deal more nudity, right from the opening scene in which Becky (Rialson) stares into a mirror, and puts on her bikini-top… very… slowly… However, the titular Mama (Grahame) is nowhere near the level of Varla, and the movie feels more like a pale imitation, despite the additional breasts.
Mama Love is a 'black widow', who travels the country, finding rich, eligible men whom she marries and then disposes of – in the first case we see, faking her husband's suicide after using Becky to lure him into a compromising situation. Moving on, they stop at a motel owned by Harold (Lambert), whose wife recently died, apparently making him an ideal target for Mama's wiles. She poses as a rich widow, travelling cross-country while she waits for her inheritance to be settled, and marriage soon follows, but that's where things get sticky.
For it turns out Harold is a 'black widower', having killed his previous spouse and made it look like she drowned. Having exchanged wills leaving each other the beneficiary, both he and Mama ach now believe the other to be rich, and are out to collect. Meanwhile, one daughter has fallen for the local sheriff, helping him out of his loveless marriage in the only way she knows how, by killing his wife, and the motel's sub-normal handyman has his eye on another daughter. It all eventually snowballs, into Harold taking a hostage and running for the hills, with Mama, the sheriff and everyone else in hot pursuit.
The makers are a good deal more interested in sex than violence, as far as exploitation goes. If I'd been directing this, I'd have turned the second half into a blackly-humourous War of the Roses story, with Mama and Harold going to ever more extreme lengths to collect. As is, the cast are generally a cut above the usual – if well short of Tura Satana and her crew – but they are largely stuck in a storyline that doesn't have sufficient content, and delivers what it has with less than adequate energy to make this memorable.
Dir: John Hayes
Star: Gloria Grahame, Paul Lambert, Sondra Currie, Candice Rialson