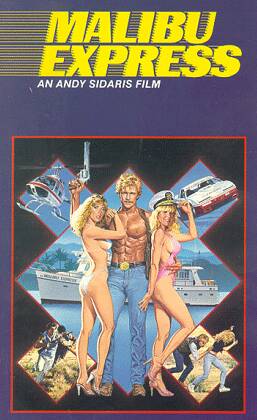 Female action fans would be well advised to give this a wide berth. Actually, so should everyone else, unless they're fans of crass sexism, extremely clunky exposition and hideous country & western. Cody Abilene (Hinton) is a PI hired by Countess Luciana (Danning) to look into the export of illegal computer technology to the Russians, centred on the home of Lady Lillian Chamberlain. Who is responsible? Oversexed chauffeur Shane? Daughters Lisa and Anita? Or the maid, Marion? [groan…]
Luciana and police Detective Beverly MacFee (Sutton) are the prototypes for later Sidaris action heroines, but otherwise this is crude soft-porn with few redeeming features. Were impressed with Danning's amazing costumes though; never realised you could do so much with a roll of coloured crepe paper. The hero starts off driving a DeLorean, which rapidly goes in for repair, and is replaced by a series of less-expensive junkers which the production can afford to abuse. The over-frequent voiceovers that add nothing to the plot. The sub-plot involving a family who'd have been thrown off the Dukes of Hazzard for being too stereotypical. Need I go on?
With all the bed-hopping, this isn't a film that has dated well – two decades of AIDS see to that. But it's hard to imagine an era in which this could ever have seemed like passable entertainment. The occasional spurts of genuine imagination (such as the resolution, which I have to admit we didn't see coming) aren't nearly enough to justify the 101-minute running time. I suspect that a film concentrating on Luciana would have had much more potential – albeit at the cost of several more rolls of crepe.
Dir: Andy Sidaris
Star: Darby Hinton, Sybil Danning, Brett Baxter Clark, Lori Sutton