"Nice fights. Just lay off the caffeinated beverages beforehand."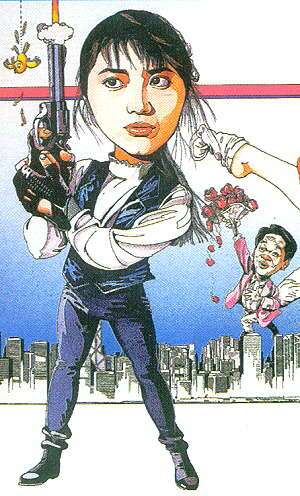 I have a headache. I want to lie down in a dark room, far from shrieking Chinese comedy harridans, incomprehensible plot twists and dialogue that loses everything in translation. And yet…have to say I liked this – especially when people are hitting each other, it's grand fun. I'd credit producer Yuen Wo Ping (fight arranger on The Matrix films – making LCH very appropriate for coverage this week), whose group also handled the action.
Khan plays a cop, who kills one member of the Five Fingers gang, causing the other four to come after her; unfortunately, she's been suspended from the force. Worse still, she thinks her father's new girlfriend is an associate of the Fingers, out to kill him. Enter PI Charlie Chan, played by Anthony Wong – best known for his portrayal of lunatic psychos, here displaying unexpected comic and martial-arts talent. He and his shrill-voiced girlfriend "investigate", and generally run interference.
There may be a time and place in which this movie makes sense, but it's certainly not Arizona, 2003. Often, Chris and I turned to each other and simply went, "What?" – still, enough worked to keep us there, right until the utterly incomprehensible last scene (are "Blackie 7" and "White-Horse-Black" mah-jong references? Can anyone please explain?). Khan and Wong are very watchable, and the action is impressive; but under no circumstances should Western viewers expect enormous coherence.
Dir: Gong Yeuk Shing
Star: Cynthia Khan, Anthony Wong, Tommy Wong, Sheila Chan