"Rise of the Robots"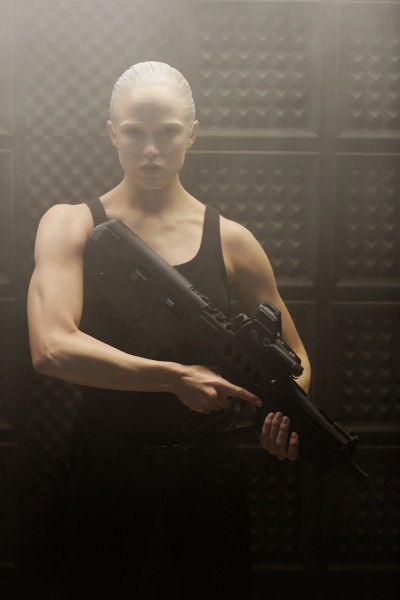 A little way in the future, a cold war between China and the West is beginning to heat up. In an underground base, Vincent McCarthy (Stephens) is doing research into cybernetic implants that can help injured soldiers lead productive lives. He's also working on a fully self-aware android. His boss, Thompson (Lawson) likes this because of the potential military uses; McCarthy is actually doing it as a potential way of helping his mentally-disabled daughter. He gets a new assistant, Ava (Lotz), whose radical politics are viewed with suspicion by Thompson, yet there's no denying her knowledge, and McCarthy also uses Ava as the template for his android's persona. When she is killed by a Chinese agent, McCarthy activates the android, called "Machine". and Thompson sees his chance to shape into a prototype for a new generation of artificial soldiers., super-strong, lightning fast and unburdened by that pesky morality thing. He blackmails McCarthy into removing Machine's conscience, only to find she has entered into an electronic alliance with the soldiers that received implants, who are now working as guards on the base.
The start of this rang bells. I think I made an effort to watch this before, and gave up for some reason, likely related to it taking a while to get anywhere beyond its obvious low-budget limitations, i.e. early on, it forgets the need to show, don't tell and is frankly, too chatty. However, once Ava turns into Machine, it becomes a good deal more interesting. It remains somewhat derivative in certain aspects, though it's hard for any low-budget SF film ever to be entirely original: Species and Blade Runner would appear the most obvious inspirations, asking what it means to be human, yet taking the form of a very non-human life-form. Chuck in some Frankenstein, a bit of 2001, and it seems to have some Eve of Destruction in there as well, through the "military experiment gone rogue" angle. However, it's most effective when going its own way, whether in storyline or style: there's one stunning sequence where Machine isn't doing much beyond walking, and is literally glowing from within. Beautifully executed, it shows what imagination and ingenuity can do, even on limited resources.
The movie's other strength is Lotz who, as the picture above shows, genuinely looks like she could kick your ass if she wanted to, a refreshing change from some of the wispier action-heroines I've seen recently. [I'm looking at you, The Lady Assassin…] I may have to start watching Arrow, on which she plays Black Canary: her background as a dancer serves her well, and she also projects a wide-eyed innocence which appears appropriate to her "newborn" status. But the latter might be as much for show, since it's coupled with a steadily escalating awareness that the things Thompson wants her to do, might be morally ambiguous, at the very least. More intelligent than the average genre entry (if perhaps not as smart as it thinks), Caradog and his crew demonstrate a clear talent for making a little go a long way. I look forward to seeing what he does in future – and Lotz is likely also a name on which to keep an eye, as well.
Dir: Caradog W. James
Star: Caity Lotz, Toby Stephens, Denis Lawson, Pooneh Hajimohammadi