"A cautionary tale. And you're cautioned not to watch this movie."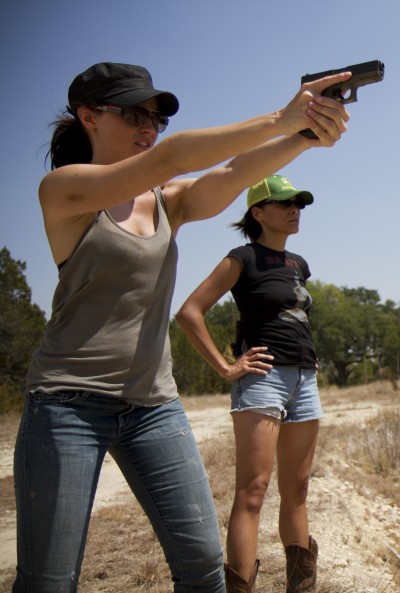 Perhaps surprisingly, given the nature of this page, I'm not inherently averse to the idea of gun control. I lived in Britain until I was in my thirties, which seems to work fairly well without the whole "right to bear arms" thing. It probably made sense in 1776, but certainly wouldn't be high on my to-do list if I was writing the constitution now. However, I now live in a country with 300 million guns or so, and I'm pragmatic enough to accept that the genie is out of the bottle here: any attempt to impose it at this point, would only impact law-abiding citizen and weaken their ability to defend themselves against criminals who would still have their weapons. Gun control works – but only if you already have it. Anyway, I mention all this to establish that I'm not averse to a movie which makes a well-reasoned argument against guns. Unfortunately, this is about as far from well-reasoned as imaginable. The facile scaremongering here leaves this mild-mannered Brit, who has touched a gun once in his life, with a strong wish for the makers of this, some day, to find themselves in need of some well-armed help.
Walking back to her Brooklyn apartment, Allie (Dunn) is the victim of a swift but brutal mugging. It's the last straw for her, and she bails out of the city the next day, hitching a ride to Texas with a touring rock band and its "charismatic" leader, Clark (Barrero). She stays in his house, and gets a job working alongside local landscaper Sarah (Bisagni), but it unable to shake the PTSD caused by the attack. Sarah introduces Allie to the joy of firearms, eventually leading to her purchasing her own weapon for personal defense. However, the presence of the gun turns Allie into a raging Charles Bronson, as we see when she charges into a local domestic dispute, all a-firearmy. From here, it's painfully if illogically obvious where this is going to end up. Oh, look: Allie getting her hands on a gun turns out to be A Bad Idea, in an incident a third-grade English teacher would mark down as poorly considered. This is my unsurprised face.
The end credits proudly proclaim that the dialogue was largely improvised, which might be okay, if it didn't seem they also made the story up as they went along too. There are a number of interesting ways this could have gone. Unfortunately, the film chooses none of them, preferring to drive a path through Austin's hipster scene, populated by "wacky" people, apparently expelled from Portland for being too smug and self-centred. Marslett seems more interested in them than his lead and her story – Dunn is actually not bad in the role, her character at least not leaving me with violent urges. So, we get lengthy, pointless scenes of a tubing trip down the river, or a party where people write their hopes and dreams on pieces of paper, stuff them into a Yoda piñata and sets fire to it. Very deep. Perhaps worst of all, Clark's band, The Karate Kids, perform behind mannequins posed into the crane-kick move from the film. Was that idea improvised as well? Because I can't think of any other explanation for it being such complete shit. Hang on: turns out it's the director's band. Explains a lot…
So much of the running-time here is completely wasted on these self-indulgent excuses for film-making, of interest only to Marslett and his cronies in Austin's scene. The net result, is that Allie's transformation from scaredy-cat into vengeful vigilante is so fast as to be utterly implausible. They needed to establish the more problematic side of her personality earlier, rather than making it seem as if purchasing a gun immediately causes psychosis since that's what guns do. There's a brief spell, where Allie is taken shooting by Sarah, that does catch fire, capturing something of the awe-inspiring power firing a gun can create, but it's soon forgotten – because we have to go to the Yoda party! Even to a neutral in the debate like myself, this is a facile and simplistic approach to a subject which deserves a far more complex exploration, from people who aren't fascinated by an aimless, slacker lifestyle that's entirely uninteresting or noteworthy.
Dir: Geoff Marslett
Star: Trieste Kelly Dunn, Francisco Barreiro, Melissa Hideko Bisagni, Ashley Rae Spillers